As layoffs and school closures have ramped up over the last couple weeks following state-mandated orders due to the coronavirus, Yelm Community Schools and other neighboring districts are reaching out to make sure all children are fed.
The Yelm school district on Wednesday, March 18, began offering daily grab-and-go meal bags free for all children regardless of if they attend class in the district.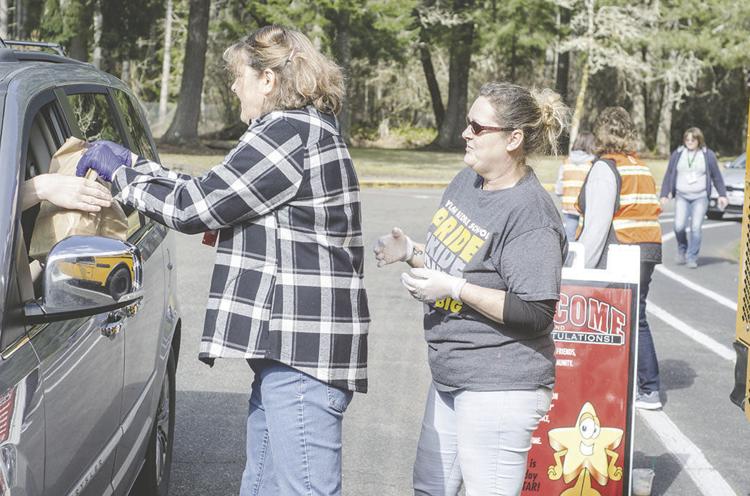 From Monday through Friday, 11 a.m. to 12:30 p.m., the combo breakfast-lunch meals are offered at eight locations around the Yelm community. The only requirement is that children be present.
Southworth Elementary School Principal Charles Cook and 21 other employees from the district were up early on March 18 to hand out the bags. The school's library was also open and families were invited inside, one at a time, to check out books and take home study packets.
"A smile goes a long way. That's all we're trying to do," Cook said.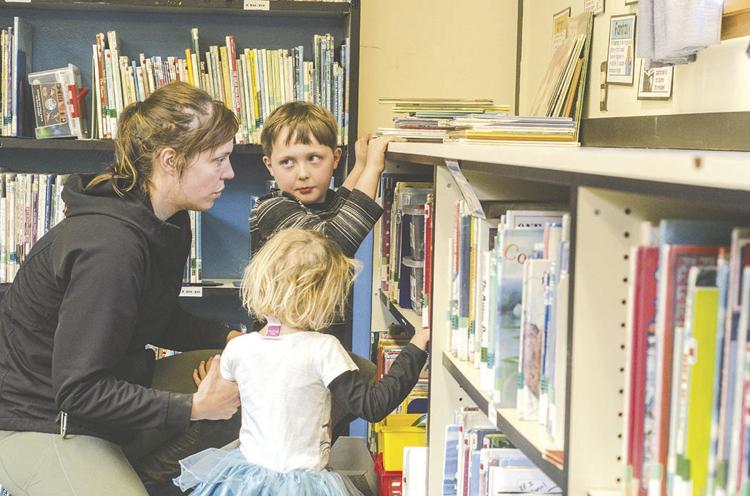 One by one, vehicles cruised through the school's visitor loop. Staff members counted kids and handed out paper sacks from the side of a district school bus.
Bus drivers Pam Skidmore and Patti Lovely took count from inside the school bus. The two said that despite the school closures, which have been ordered closed through April 24 by the state, their department is staying quite busy.
"I enjoy helping out the families and the kids. It's kind of what we do in the first place with driving," Skidmore said. "It's great that we can do this. It's sad that we have to."
And the need for food within the Yelm district is there. About 2,270 students who attend class at a school within Yelm Community Schools are eligible for free and reduced breakfast and lunch, according to 2019 data from the Washington State Office of Superintendent of Public Instruction.
That works out to a little more than a third of the district's total number of enrolled students.
The district is among many within the state that have a severely high need for these services. For some students, eating at school is their only healthy meal, staff members say.
Cook said there are about 250 students at Southworth who are on free or reduced lunch programs. Southworth has the second-highest number of students in the district that receive financially-discounted lunches.
The last few weeks haven't been easy for many families, Cook said. This is just one way they're looking to give back during these trying times.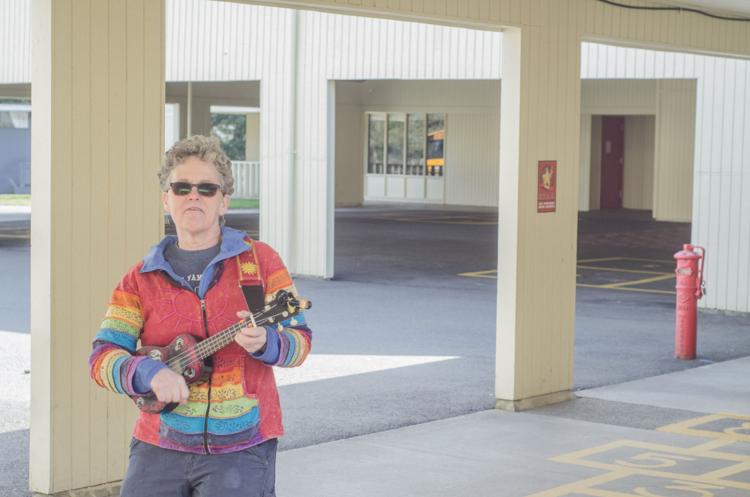 "We're just trying to show our community that we support them," he said.
The next day, over at Ridgeline Middle School, halls remained empty but there was an odor of cauliflower in the air.
"Smells like feet," Food Service Director Sandy Conradi joked while walking into the gymnasium-cafeteria.
It was just before 10 a.m. and a number of food service employees had gathered to prepare the lunch-breakfast bags.
Outside, seven empty school buses awaited 700 sacks of lunch. Each site receives about 100 bags.
Conradi said the district distributed 670 bags over seven locations on their first day, leaving only about 30 bags left over. She said it's great, because families are hearing about the program.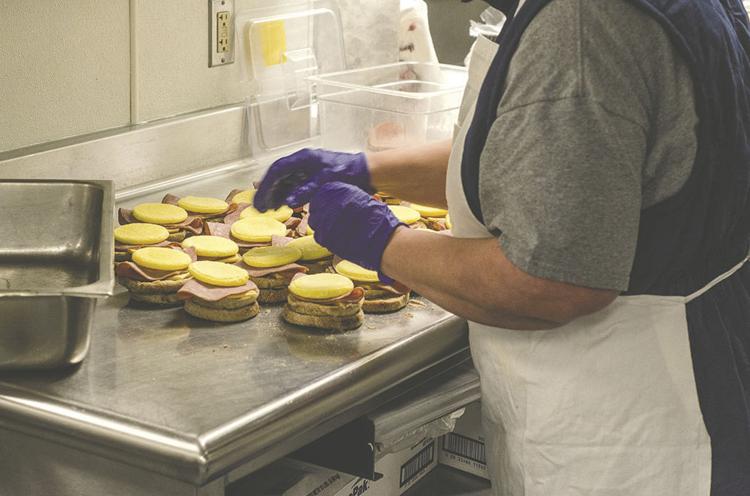 As parents and students continue to pass word of the program to one another, Conradi said she believes the district will need to increase its output of meals.
Conradi said while the district can't simply drop off a meal at every bus stop, they have started to do a select number of drop offs at homes with special needs students.
"We can't go house to house, but we want to spread out as much as we can," Conradi said.
On Friday, Communications Director Teri Pablo said the number of bags they've handed out increased quite substantially over the first three days.
The district handed out about 2,504 meals in seven locations, Pablo said.
The district added an eighth location at Dylan's Corner at Lake Lawrence on Monday.
This program will also serve meals during spring break.