Some are big, some are small. Some are round, some are angular. And some are green, but others are orange. 
That's right, they're gourds — pumpkins, more specifically. And Crossroads Community Covenant Church has a whole lot of them. 
The church is currently hosting its annual pumpkin patch near Four Corners and will be open daily until Oct. 31. Proceeds — as is the case every year — will go to benefit scholarships for the Yelm Dollars for Scholars and Rainier Education Foundation programs.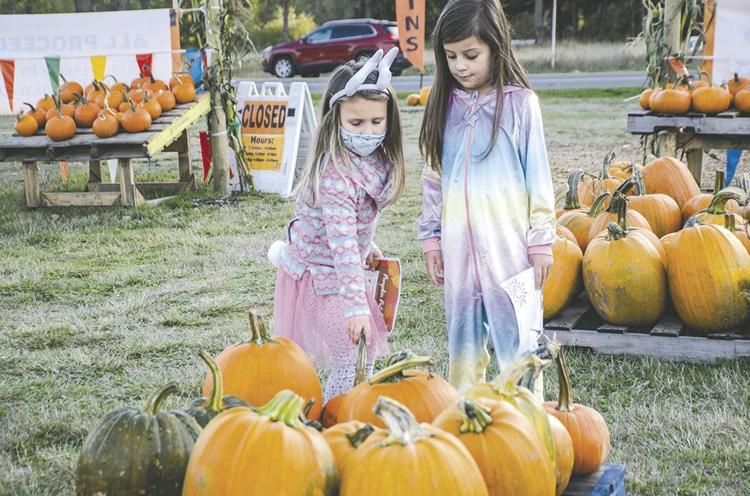 "It's a lot of work, but it's gratifying to hand a check to a kid who's going on to a post-high school education," said Frank Hudik, vice president of Yelm Dollars for Scholars and a pumpkin patch worker. 
As they are every year, pumpkins were recently donated by Nisqually Springs Farms. This year, more than 100 volunteers came out to help with the picking and sorting.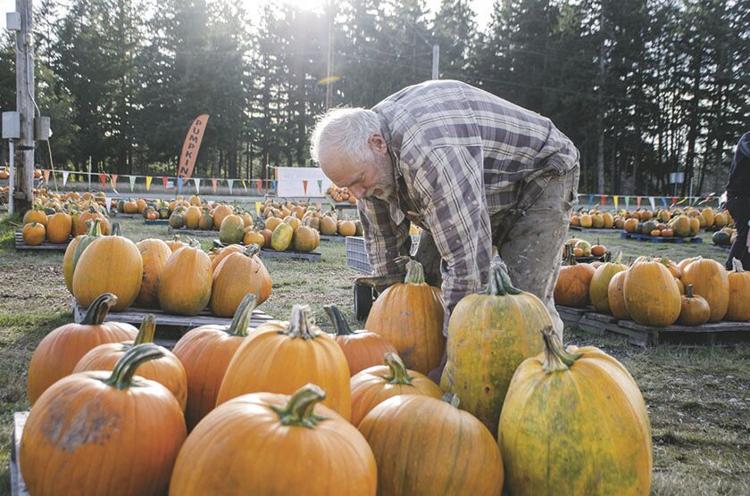 Hudik said the options for pumpkins this year is just downright excellent, with a great variety of shapes and sizes. 
"It's really a win-win," Hudik said of the collaboration between the church and scholarship programs. 
While some activities — such as wagon rides, refreshments and pictures on the tractor — are not making an appearance due to COVID-19 precautions, the patch has expanded in some other places. Kids and adults alike can enjoy a scavenger hunt to win a bag of candy, and the patch is offering mobile pumpkin delivery for businesses looking to spruce up their storefronts. 
Hudik said the mobile ordering system is going well, and they've raised about $500 so far from that alone.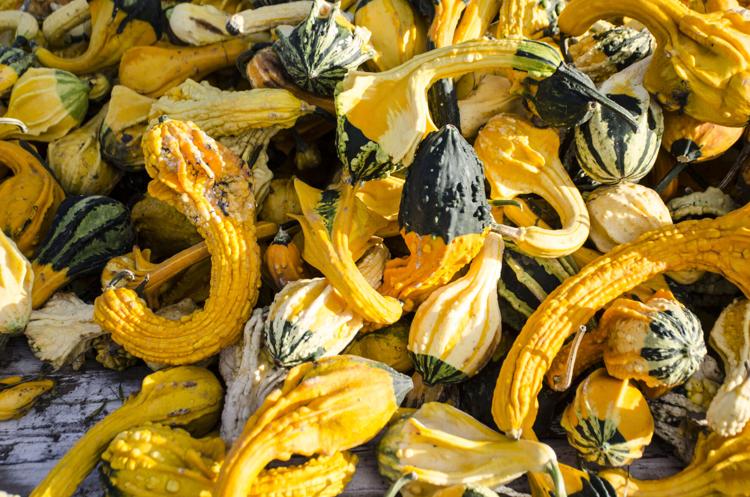 Last year, the pumpkin patch raised about $4,700 for Yelm Dollars for Scholars. In 2018, that number was at about $3,000, according to Hudik. 
Deborah Baker, the pumpkin patch coordinator, said so far there's been plenty of support from the community. 
"It's about the people," she said. "Really connecting with people and making sure the families are having fun." 
Hudik added that, given the ongoing recession caused by the health crisis, it's more important than ever to make sure students are able to get a good start on post-high school educational opportunities. 
Last spring, Yelm Dollars for Scholars awarded about $142,000 in scholarship funding to 102 seniors. Since its inception 20 years ago, the Rainier Education Foundation has raised more than $800,000 in funds for grant and scholarship opportunities, according to its website. 
Kasey Pate, 30, of Yelm, and her two children, 2-year-old Ellie Pate and 4-year-old Aaron Pate, attended the pumpkin patch on Monday, Oct. 12. 
"We always come out to support the church and the kids. This is our fourth year out here," she said, adding that it's the friendly environment and noble cause that keeps her family coming out each year. 
The trio walked away with two pumpkins that day, one white one and a tall orange one. Pate said Aaron plans on carving Mr. Potato Head into the white one. 
As for the orange one? Well, Ellie hadn't made up her mind yet. But whatever she chose for her masterpiece, Pate said it would likely be adorned with markers. 
The Crossroads pumpkin patch is open from 10 a.m. to 6 p.m. on Saturdays, 1 p.m. to 6 p.m. on Sundays, and from 3 to 6 p.m. on weekdays. 
The church's Halloween festivities will culminate at 6 p.m. on Saturday, Oct. 31, with a drive-through trunk o' treat celebration for children.