Now through Oct. 5, Mount Rainier National Park is soliciting feedback from the public on suggestions and project ideas to improve the Nisqually to Paradise corridor in the coming decades. 
The park is currently in the beginning stages of its three-phase Visitor Use Management Plan for the corridor, which will explore viable improvements to the area and its services and implement those on a long-term basis. 
This plan looks to address the changing needs of park visitors and support positive visitor experiences along the park's busiest and most densely-used corridor, staff say. 
Park staff, as well as Deputy Superintendent Tracy Swartout and Superintendent Chip Jenkins, were present during a public meeting held by way of video conferencing on Tuesday, Sept. 1, during which staff gave an overview of the plan and answered a number of questions from the public.
The plan comes as the park experiences a steady increase in the number of seasonal visitors.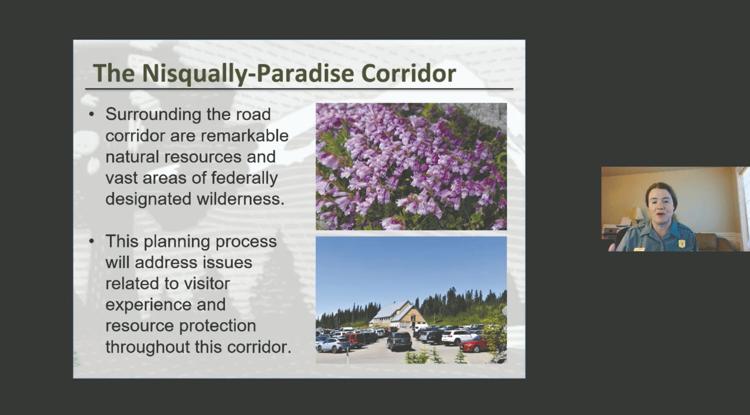 "The visitation has really increased over time. Most of this visitation occurs within those summer months that are most popular and, within those summer months, there are a few key areas that tend to be very popular," said Rachel Collins, project manager with NPS. "What we want to be doing is making sure that, even with these increases in visitation, we're still providing really high visitor experiences and we're really providing for resource protection goals." 
According to a presentation provided by Collins, Mount Rainier National Park experienced a 30-percent increase in visitation between 2008 and 2018. Overwhelmingly, 70 percent of visitations occur in a three-month time span in the summer with most of those taking place in a small number of areas throughout the park. 
"This proactive planning for use of this corridor really helps us provide access, improve experiences and protect resource conditions and cultural values in the corridor," she said, adding that they hope to walk away from the community engagement phase with a suite of project objectives. 
Collins said there were six main objectives that were driving this discussion: addressing roadway congestion on Highway 706 near the park entrance and popular trailheads on busy days; ensuring quality experiences at scenic viewpoints and along trails; addressing parking lot congestion and facility overuse due to a stark increase in visitation rates in recent years; protecting historic and cultural assets and landmarks; developing strategies to accommodate visitors in sensitive ecological environments; and learning about what visitors are experiencing at the park. 
"The information that we gather from you through this planning process is going to inform our decision making, and then our priority setting for how we invest your tax dollars, the public funds, over the next decade at Mount Rainier," Swartout said. 
She added that while solution-focused ideas are great, she and the park staff would prefer to hear about what visitors find valuable, what experiences people have had and what barriers may have prohibited those experiences, and what kinds of experiences they would like people to have while at the park in the near future. 
This question and answer period — which includes the commenting period closing Oct. 5 — is part of the first phase of a three-phase plan to establish the content of the Visitor Use Management Plan for the Nisqually to Paradise corridor. 
The first phase includes establishing intent and need for the plan, identifying issues, developing project objectives, reviewing data and previous studies, exploring desired conditions and engaging the stakeholders of the park and corridor. 
While the overall plan does not have any hard deadlines, Collins said they hope to come back this next spring or summer and begin work on the second phase of the project to explore solutions and viable concepts. 
But that timeline depends on what they hear from the public in the first phase. 
"We want to take some time to put some meat around those, do some vetting with them, think about what the context of some of those ideas might be before we come back so we give you something else to respond to," Collins said. "I think it would be super fruitful." 
This corridor plan is being funded through federal appropriations, Collins said. Though none are planned, National Park staff plan on holding additional meetings in the future regarding the subject. 
"We expect that some of the solutions that we come up with will be solutions that we can employ for other areas of the park," Swartout said. "We won't stop ourselves with this corridor, but this really is the most important corridor to focus on first and understanding that as we move forward, we will take in turn looking at some of the other corridors in the park."