Ashley Caldwell didn't know about the ferrets.
Which was odd, indeed, considering the 33-year-old Rainier High School English teacher prided herself on relating to at least some of her students' away-from-school activities. The personal touch, she figured, would establish rapport, strengthen classroom camaraderie, and hopefully lead to academic success.
So how could she not have known that a senior student she'd had in class for four years was crazy about domesticated polecats? 
"It was shocking to me that I didn't know this about her, and that ferrets were a big part of her life," Caldwell said recently. "I tend to get to know the students pretty well and find out what they are interested in, so this surprised me."
Caldwell, born in Bremerton and raised in Port Orchard, has been at Rainier High School for seven years. It's safe to say that at least some of her students over the years have considered her atop their list of favorite teachers.
Based on a Nisqually Valley News story the other week about the top five senior academic RHS students, it was pretty obvious Caldwell had impacted their lives.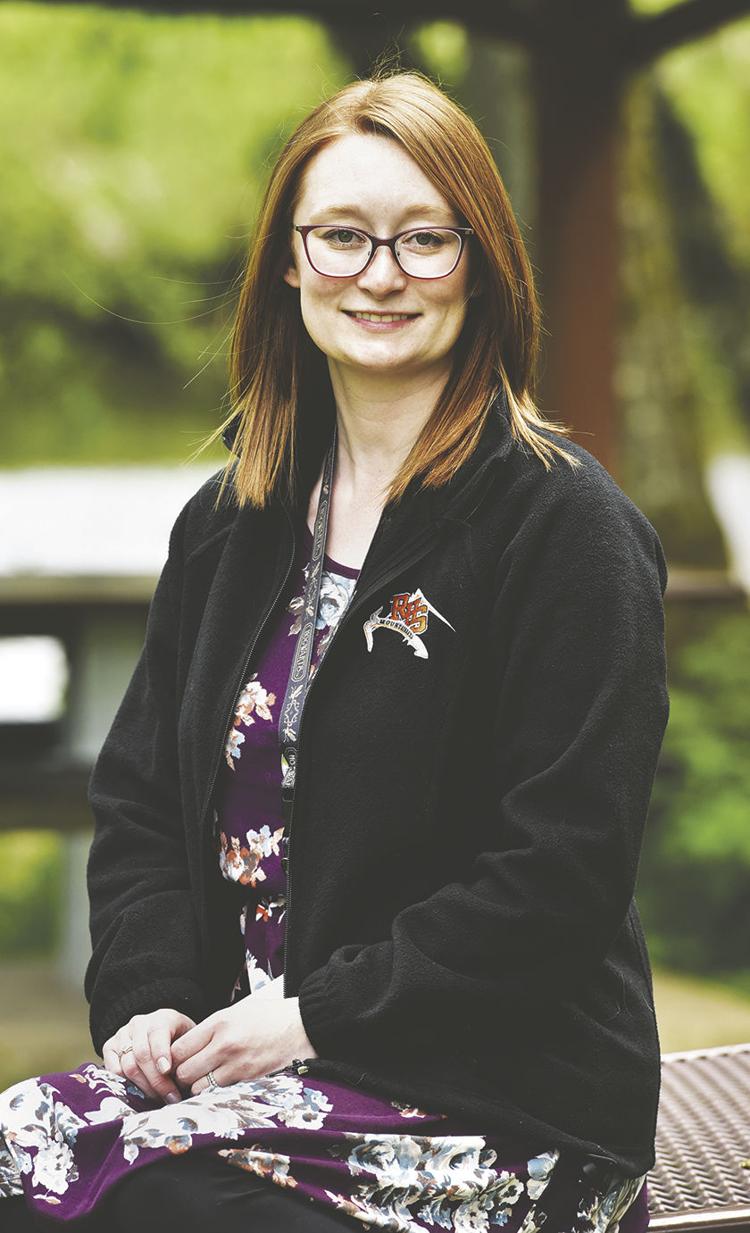 Consider Exhibit A: RHS co-valedictorian Erika DeMint. The senior with a 4.0 grade point average was this year's Associated Student Body vice president and president of the RHS chapter of the National Honor Society. 
Her favorite classroom memory "is the hour-long discussions we would have in English about real-world topics where everyone was sharing their opinions and listening to each other." She named Caldwell — who taught DeMint honors English and other advanced-placement classes — as her favorite teacher.
Here's why: "It's because she is the most caring and thoughtful teacher I have ever had," she said. "She can be tough sometimes, but she is always there to talk. Also, she doesn't give busy work. All of her assignments had a purpose and were well thought out, which was very appreciated."
Caldwell's boss, YHS Principal John Beckman, seconds DeMint's observations: "Ashley works hard to build relationships with her students," he wrote in an email. "She gets to know her students on a personal level and does her best to meet the needs of all of them. She is passionate about teaching and always wants what is best for her students."
Caldwell, who has a bachelor's degree in English literature and secondary education from Western Washington University and a master's degree in education from Walden University, applies her knowledge, in fact, to ensure her assignments relate to her students' modern experiences.
"I try to create projects and certain writing assignments around modern and popular topics the students know about and that will excite them," she explained. "If we're studying an older text, I try to relate it to something they know now."
And, as DeMint related, Caldwell can be tough — as in tough love.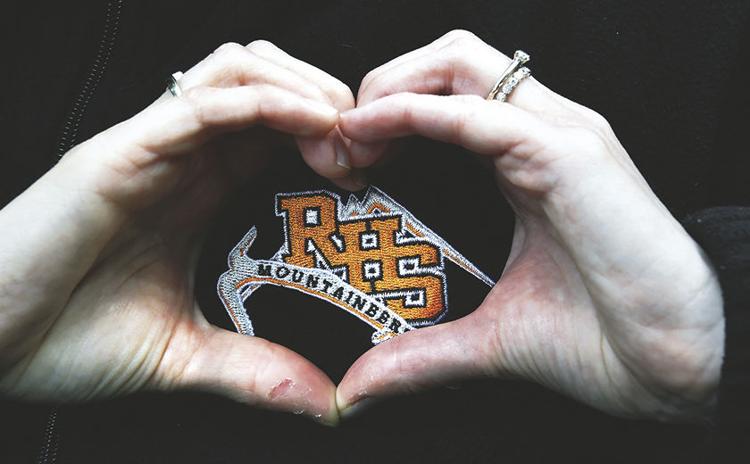 "I try to ensure my students understand what it means to be professional," Caldwell said. "I try to give the students a way to voice their opinions in a respectful manner and to listen to the opinions of others. I also expect them to respect me, and in turn I respect them."
In Caldwell's world, honesty works hand-in-glove with respect, and the coronavirus pandemic — which prompted Gov. Jay Inslee to close all Washington state schools in mid-March —  only heightened the need to play it straight with her charges.
"I'm very honest with them (students), and I don't dance around things," Caldwell said. "The week leading up to the closure I told them we couldn't ignore it. They didn't really want to hear that, but it was the reality."
That reality hit Caldwell certainly as hard as it did her students.
"I told them I was sad and uncertain about the future, because it's important for the students to recognize that you are human as well," she said. "This has been a tough go for me, because I have lost an entire quarter with these students, and I'm so proud of them and their accomplishments."
Among those students is Alexa Dunn, another of the RHS top five academicians. Dunn, a Running Start student for two years who likes flying helicopters, reading, writing and hiking, will attend Embry-Riddle Aeronautical University in Daytona Beach, Florida, to help realize her goal of becoming a professional helicopter pilot.
Dunn lists Caldwell as her favorite teacher, because "she helped foster a love of critical analysis that I took wholeheartedly into my literary analysis class at SPSCC, which was undoubtedly one of the best classes I'd ever taken, and it was because of her encouragement of my ideas that I got there."
Caldwell, indeed, encourages her students to share their thoughts — especially those students she doesn't know too well.
"I try to give the students an opportunity to tell their stories," she said. "It's part of building that relationship with them and letting them know you care and that what they value you value as well."
In that vein, Caldwell has challenged her senior students — via online remote teaching platform Google Classroom — to write graduation speeches to their classmates.
"I always try to bring meaning to the assignments I give the students," Caldwell said. "This way, they can reminisce on the past and say goodbye to their classmates."
As Caldwell freely admits, she has struggled transitioning from in-person classroom teaching to online instruction. Weathering the COVID-19 storm has left her at times feeling lost — and lonely.
"I miss my students so very much," she said. "They are bright and insightful and thoughtful and funny — and sometimes a little crazy, and I just miss talking to them."
The technical challenges of teaching from home have also caused no little stress. Some of her students, for instance, don't have home internet access, and families with more than one student struggle to juggle internet time for all.
"This whole thing (online teaching) has been about me starting from scratch and figuring everything out," Caldwell said. "I thought I was a little more tech savvy than I am, but there was a lot of trial and error and trying to figure out what works for the kids and what doesn't."
Fortunately, she added, Beckman and the school's tech director have been "incredibly supportive." Fellow teachers have also helped fill in the teaching withdrawals Caldwell's experiencing.
"I wouldn't have been able to get through this unless I could talk with my colleagues," she said. "It's hard for us not having our daily check-ins with our students to celebrate their successes, because we're not seeing them as we normally would."
The situation is magnified by the very nature of the school and the community that supports it, Caldwell said.
"The best part of Rainier High School is the community itself," she said. "It's a family, and that sounds corny, but it's true. Everybody knows everybody, and everybody takes care of everybody. It's that close knit aspect of the community that you don't see much anymore."
And Caldwell fits right into that community, Beckman said.
"Since we are a smaller school, we feel fortunate that we have an atmosphere that often feels like a family," he said. "We believe in looking out for each other and taking care of each other, and Ashley does this on a daily basis. She loves working with kids and takes pride in the relationships that she builds with her students." 
Ironically, the coronavirus pandemic may have enhanced the giving spirit of some Rainier and other Yelm-area residents, even while keeping them six feet apart. And for Caldwell, who lives at Scott Lake in Olympia with her husband Grant and their dog Zoe, the in-person daily interactions with students and colleagues — which highlighted her workdays — might by now seem like distant memories.
So with her normal curriculum shattered, she's busy post COVID-19 shutdown trying to keep her students engaged from afar while maintaining a thriving garden, walking her dogs, reading, and shooting a bit of golf now and then.
"I usually don't keep a tally of my scores," she said about her game. "I'm really inconsistent, but I love it and it gets me out of the house." 
Beyond those activities, Caldwell's future — like just about everybody else's in Rainier and elsewhere —  is as obscure as a white golf ball in a sand trap. Her devotion to her students and school, though, remains steadfast.
"I just want to get back in my classroom, but it's kind of out of my hands," she said. "I really have no idea at all about the future. This has just been so unpredictable."
Just as her student's love for ferrets seemed to be at one time.