A tanker truck overturned early Wednesday morning on Interstate 5 near the Lewis and Thurston county line, spilling 3,000 to 3,200 gallons of motor oil and causing traffic to be backed up for miles down the interstate and connecting thoroughfares.
The truck's driver, Jeffery T. Anderson, 53, of Yelm, was uninjured and was arrested on suspicion of driving under the influence, according to the Washington State Patrol.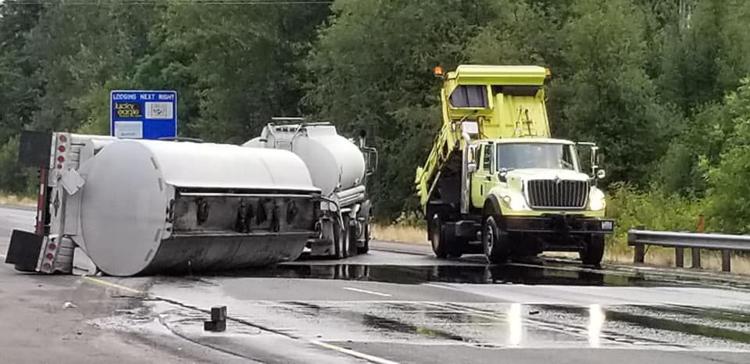 The crash occurred at 4:22 a.m. Wednesday at milepost 85.5. The truck left the roadway to the right, striking a guardrail then crossing all three lanes of traffic before overturning.
One of the tanks being pulled by the truck sustained and 8-inch gash along the side, spilling 3,000 to 3,200 gallons of oil on the roadway.
Washington State Department of Transportation officials advised the cleanup effort, which includes procedures from the Washington State Department of Ecology, would likely take most of the day.
WSP Trooper Will Finn — who took to Twitter throughout the morning — alerted motorists that the cleanup effort would extend three miles beyond the crash scene, after motorists drove through the spilled oil and tracked it along the roadway.
"If possible, please delay your travels. Crews are working through a complicated and tricky process to reopen lanes," wrote WSDOT Tacoma on Twitter.
As the miles of unmoving traffic continued to line up — Finn advised shortly after 8 a.m. that traffic had stacked up to exit 76 in Chehalis — roads and thoroughfares leading toward I-5 were also backed up.
Centralia Police Department Sgt. Buddy Croy advised that traffic was being re-routed into Centralia, with the detour set up at the Harrison Avenue exit. A WSDOT traffic alert advised motorists were being rerouted onto Harrison Avenue/Old Highway 99 Southwest to the north and onto U.S. Highway 12 then back onto I-5.
Croy said, at around 9 a.m., that the detour route appeared to be backed up to Reynolds Avenue in Centralia. A few moments later, traffic was backed up to Main Street. Officers were working traffic control at various pinch-points for semi-trucks, in an effort to alleviate some of the downtown gridlock, he said.
Southbound I-5 lanes were unaffected by the collision.