GRAND MOUND — The sweet scent of hot coolant fluid permeated the air and chunks of disintegrating tires lay strewn across the sloped track. Brake pads smoked like chimneys when drivers missed their marks and made recycled bolts rattle around the corner. The sun set like marmalade and nectarine peels behind the billboard wall on the homestretch while racing fans stretched out on blankets and enjoyed the comforting fodder of deep fried foods.
It was just another night at the South Sound Speedway in Grand Mound.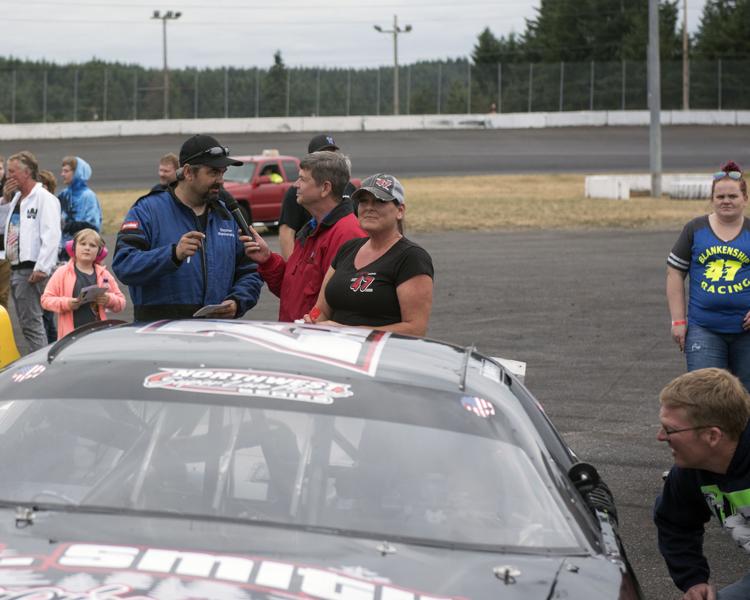 Located just a few miles off I-5 from Exit 88, the 3/8ths of a mile track at South Sound Speedway draws drivers from all over the Pacific Northwest, and beyond, thanks to its fast and smooth track and other driver friendly amenities. There's a big, typically packed, tiered grandstand on the east side of the confines and cold sudsy beverages for any spectators who are old enough to qualify. There's even an auto racing parts store located just beyond the pits for all of those ill-timed mechanical hijinks that have an ornery way of popping up on race day.
"Size wise it's pretty comparable (to other regional tracks). Most of them are around 3/8ths of a mile. It might be a little bigger than some," noted Kelly Hale, who handles all of the microphone duties on race day. "As far as the surface, the lighting, the cleanliness, nobody else compares. It's by far the best racing surface in the northwest with the best lighting. Lighting wise it's one of the best in the country and you don't often see that with a short track because lighting is expensive."
Wednesday was a special day at South Sound Speedway as the main event race of super late model cars added 26 laps in honor of one of their own, Wes Rhodes, who crossed life's finish line prematurely several years ago.
Rhodes was a talented and well respected driver with roots in Olympia, Rochester and Yelm. He raced in a menagerie of different classes over the decades including the Northwest NASCAR Tour.
"We lost Wes a few years ago and that's when this race was born. The reason it's 126 laps, which is an odd number, is that was his number, six, that's what he ran," noted Hale. "We created this race a few years ago to honor him. The Wes Rhodes Memorial Firecracker 126."
Stephen Blankenship is a driver who found the extended race to be just the right length on Wednesday. A local racer from Tenino, Blankenship had the most fans in attendance as evidenced by both the cascade of cheers from the grandstand and the line of youngsters seeking his autograph during a meet and greet on the track before the racing started.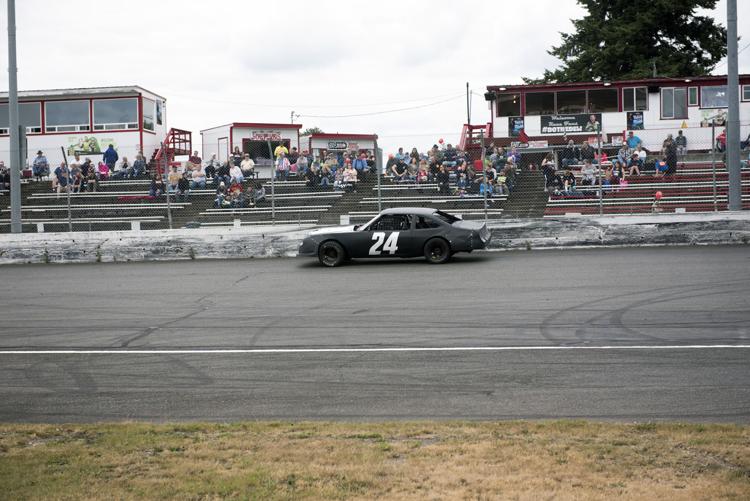 Blankenship, and his 2018 Chevy race car, started the day in third place for the season but just 23 points away from the top of the leaderboard. Prior to the start of the Wes Rhodes Firecracker 126, Blankenship said he felt as confident about his chances that night as he ever had.
"I've raced these cars off and on for 15 years and this is absolutely the best piece I've sat in, tonight," explained Blankenship while handing out autographs on the track. "I"ve got technology. I've got the shocks. I've got the chassis. I've got the stuff that I used to race against so now I feel like we're all level because I've finally got the stuff. You're searching for a couple tenths (of a second) all the time and I've finally got them."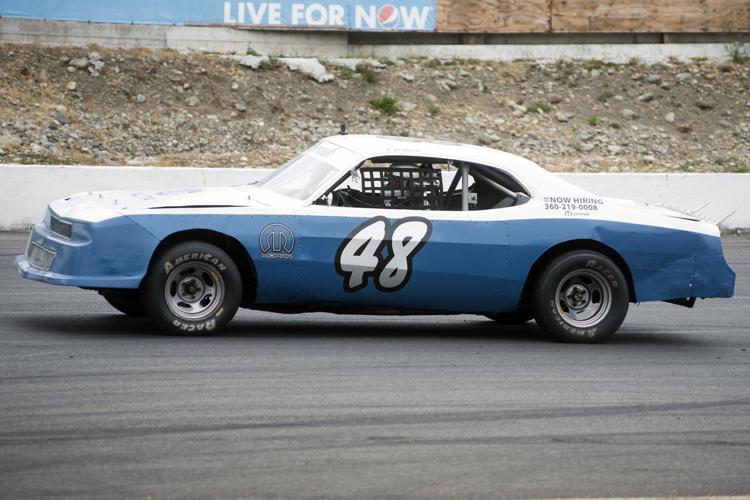 Blankenship noted that in a long race in the fastest class of cars the secret to success is rather straightforward.
"Stay out of trouble because everybody is running so tight it's just keep the fenders and the tires on it and keep a good steady pace. Basically, save all your stuff until the end," Blankenship said. "If you get two (cars wide) here that's tight. But it's very smooth here with a lot of grip."
After a decade and a half chasing the checkered flag to no avail Blankenship still showed up on Wednesday with a smile on his face and expecting to win.
"I love it. I've done demolition derbies. I've raced motocross. I work in the woods so it's kind of extreme. And this is extreme, I mean we're flying and it's just the adrenaline," Blankenship said. "I have never run a race. The whole time I've run late models I have never won one and I'm not going to quit until we get one."
That enthusiasm finally paid off for Blankenship on Wednesday when he turned a pole position start into a champion's trophy after 47.25 miles of centrifugal force left turns and pedal to the metal straightaways.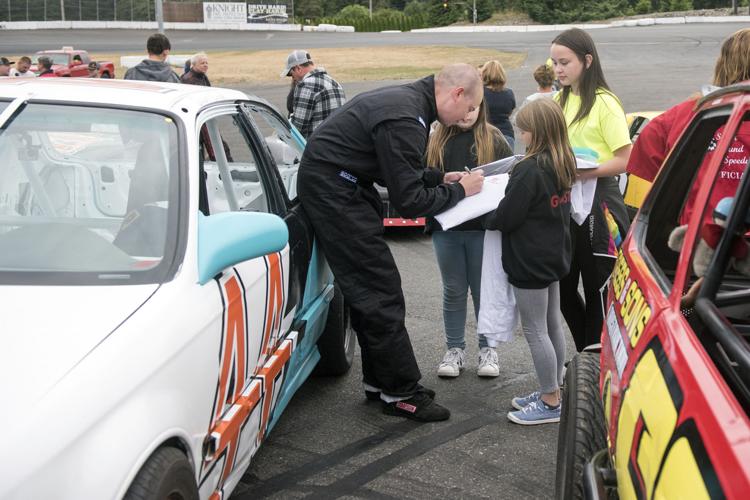 Blankenship's competition in the super late model class came from all over the Northwest, including British Columbia. However, drivers and crews from the smaller supporting classes tend to hail from within the parameters of the 360 area code. The tuner car classification has the lowest bar for qualification with many of the cars held together with the proverbial baling twine and duct tape approach to car maintenance. Not coincidentally, four of Wednesday's tuner car participants share a single family tree.
The father and son combo of Greg Schlund (#9) and Gregory Schlund Jr. (#3) make up the most obvious component of that familial racing contingent. However, car number 81 is driven by the elder Schlund's daughter Jaiden Lowery and car 95 is driven by Sclund Seniors' brother, Richard Woolverton. Woolverton has been racing for nine years while Schlund Jr. and Lowery are both in their first season of track racing. The family typically tinkers on their cars in their garage behind the home stretch of the track so the speedway location couldn't be more convenient.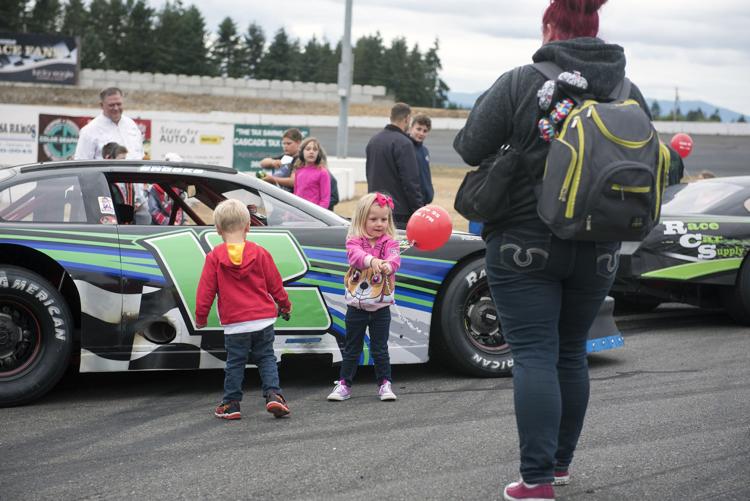 "My kids wanted to race so I figured I better get back out here and get my car going," said Schlund Sr.
While they all pitch in during the week to make sure their quartet of cars are ready to roll, all bets are off once the green flag waves on race day.
"What happens on the track, stays on the track," noted Schlund Sr. with a rumbling exhaust pipe laugh.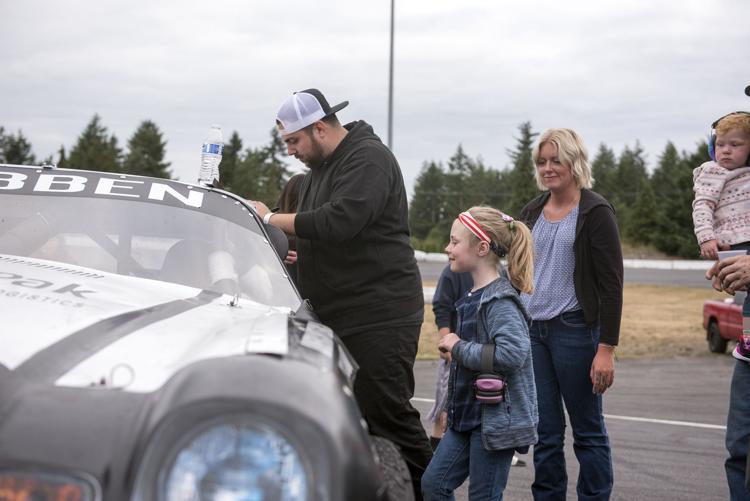 There were local drivers in the hobby stock ranks on Wednesday as well. Derrick Gomes and James Warren make up the East Lewis County contingent of the good ol' boy classification. Hobby stocks are almost entirely comprised of 1970's model muscle cars like Camaros, Novas, and Firebirds. Their bodies are typically dinged in more places than not but their engines roar and their drivers are rarely scared to swap a little paint. Gomes, of Onalaska, races a 1974 Plymouth Duster (#24) while Warren, of Morton, races a '77 Dodge Aspen (#48). Both men work for Alta Forest Products and the local business subsequently sponsors both of their cars.
In hobby stock racing the driver with the best qualifying time is placed at the back of the pack to start the race. Considering that disadvantage it may seem like some drivers would be inclined to sandbag their qualifying run but the Easty County team, who first met playing Little League in Morton in sixth grade, insists that pride and points prevent that sort of gamesmanship.
"I don't want to start in the front row and run away from the front row and win. Whoopty doo, you know. I want to be in the back of the pack and pass guys and beat 'em," explained Gomes, who is in the midst of his second season of racing at the speedway. "Battling. Racing. Battling. Whether you're blocking somebody or you're passing somebody. The battling is what's fun."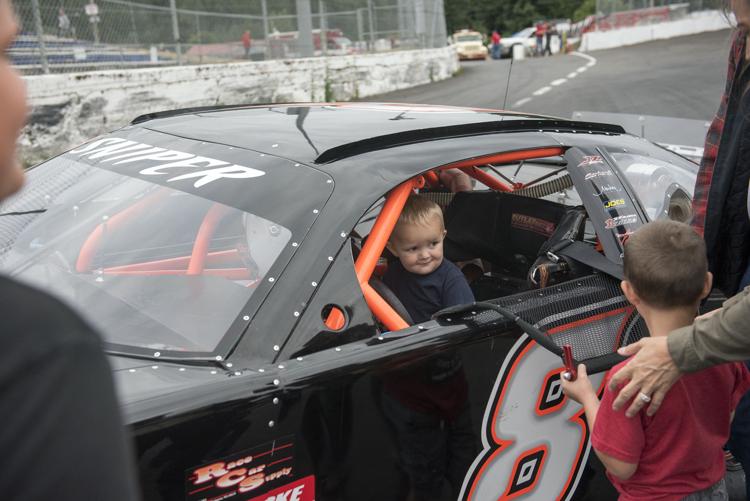 Warren, who is in his fourth season of racing, says that he got Gomes hooked on the sport on accident.
"When we started out he was the mechanic and I was the driver. Then I had to go to a wedding once upon a time and he drove the car. Then he caught the bug and decided he had to go get his own car," Warren noted.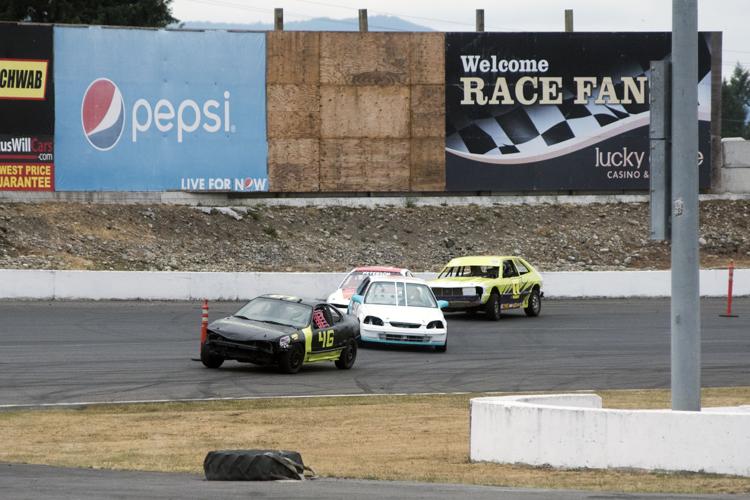 Gomes added that the old timers and regulars at South Sound Speedway are a welcoming lot who are always eager to help new drivers find their bearings.
"It's a good track and a good group of guys out here. We came out here pretty open arms. They knew we were rookies and we'd never done it before. They helped us, mentored us a bit and gave us some tips until we started getting fast and then they shut up," Gomes said with a chuckle.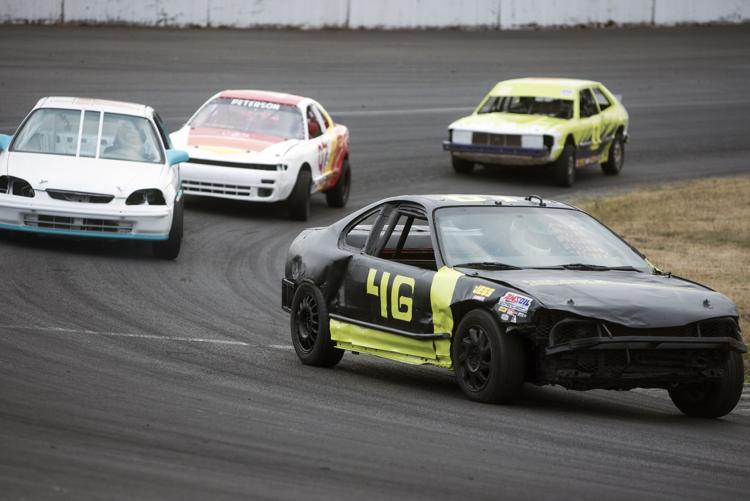 Both Gomes and Warren race exclusively at South Sound Speedway which they agree sits right at the convenient intersection of time, travel, and money consideration.
"When the kids get a little bit older I'd like to travel around a little bit," Gomes said. "Right now life's about the kids. Saturday night local is not as difficult as traveling."