Digging ditches. That's what it looked like out on the prairie around Rainier on Monday, June 24, as men and women from all walks of life came together under one common name: firefighter.
There wasn't an actual fire on the prairie — just 450 firefighters of varying degrees of experience, learning new skills or honing old ones as part of the Western Washington Interagency Wildfire Training Academy.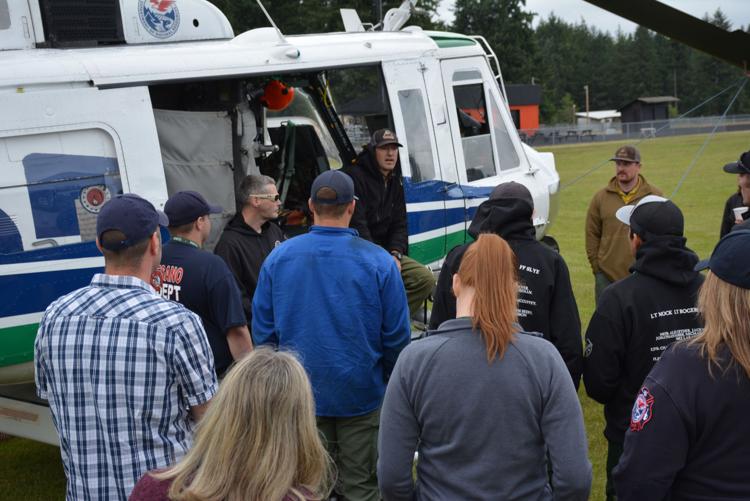 "The purpose of the training academy is to come together and train all of our new firefighters, and our returning seasonal and permanent wildfire staff, to be able to have a successful season fighting fires and managing incidents," said Dakota Truitt, public information officer for Western Washington Interagency Wildfire Training Academy, which made Rainier High School its western headquarters.
During theMonday exercise, the firefighters were digging containment lines out on the prairie, which is an important aspect of fighting wildfires. Basically, the firefighters create 18-inch wide rings around fires with all the vegetation and roots removed from the entirety of the containment ring. This practice keeps fires from spreading when they reach the lines.
"You want to make sure the roots are cleared because when fires get into trees, they'll go down into actual root of the tree," said Beau Williams, with the National Guard. "Those roots can go 2 feet or a mile into the ground, so if we don't cut those roots out and there's a fire in a root, it will just travel in and pop up somewhere outside of our line."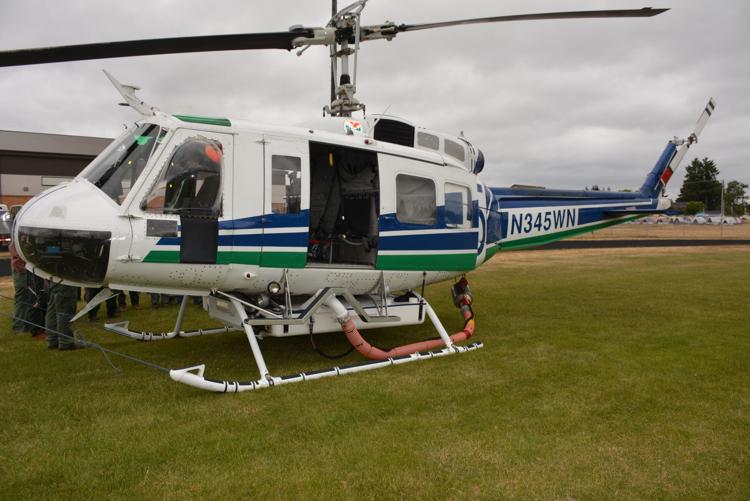 Williams, who also works as part of the Washington State Patrol, said the training academy, which spans from June 20 to June 29, has been well operated.
"It's been great," he said. "They've really taken care of us. They've given us good food. They've given us good training — a lot of great instructors who have years of fire experience. So it's been a really awesome experience."
In fact, the academy has 72 instructors, with seven agencies present, along with 44 fire districts represented. Some of the agencies that took part include the National Parks Service, the U.S. Forest Service, the National Guard, the Air Force and the Army. This is the fifth year the academy has been going, and the first year it has been housed at Rainier High School. There are also two other academies that run in the central and eastern parts of the state.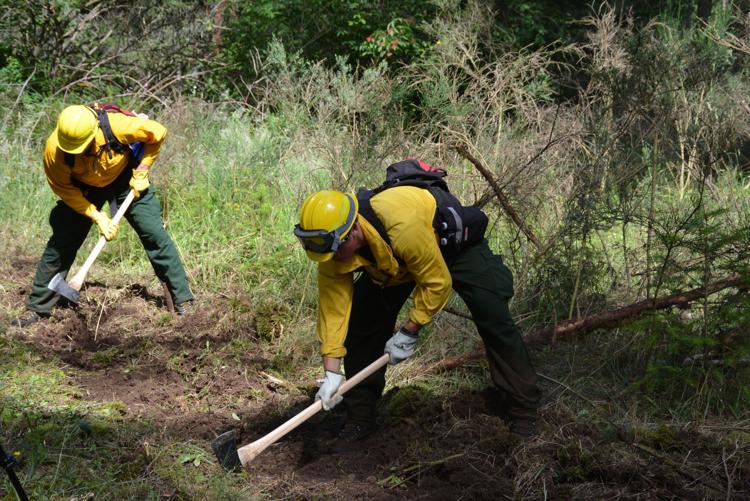 Hilary Franz, Washington state commissioner of public lands, told the Nisqually Valley News having a centralized academy where firefighters can begin collaborating with each other before a fire breaks out is invaluable.
"This is an opportunity for them to meet their partners, their colleagues that they are going to see on the fire line, make sure they have equal, adequate and sufficient training," Franz said. "Last year was a perfect example, where we had incident command leaders across the nation who … come in and help us during fires saying, 'We've never seen it more collaborative, more communicating and coordinated than what we've seen here in Washington state.' I think a large part of that is this interagency training program."
Franz said wildfires demand superior communication, coordination and cooperation, which the academy is designed, in part, to produce.
The training academies become the backbone of each firefighter's knowledge, providing all with a standardized, cross-agency approach that is completely necessary for an effective, unified response to wildfire incidents, especially knowing that state-provided wildfire protection begins each year with one arm tied behind its back, Franz said.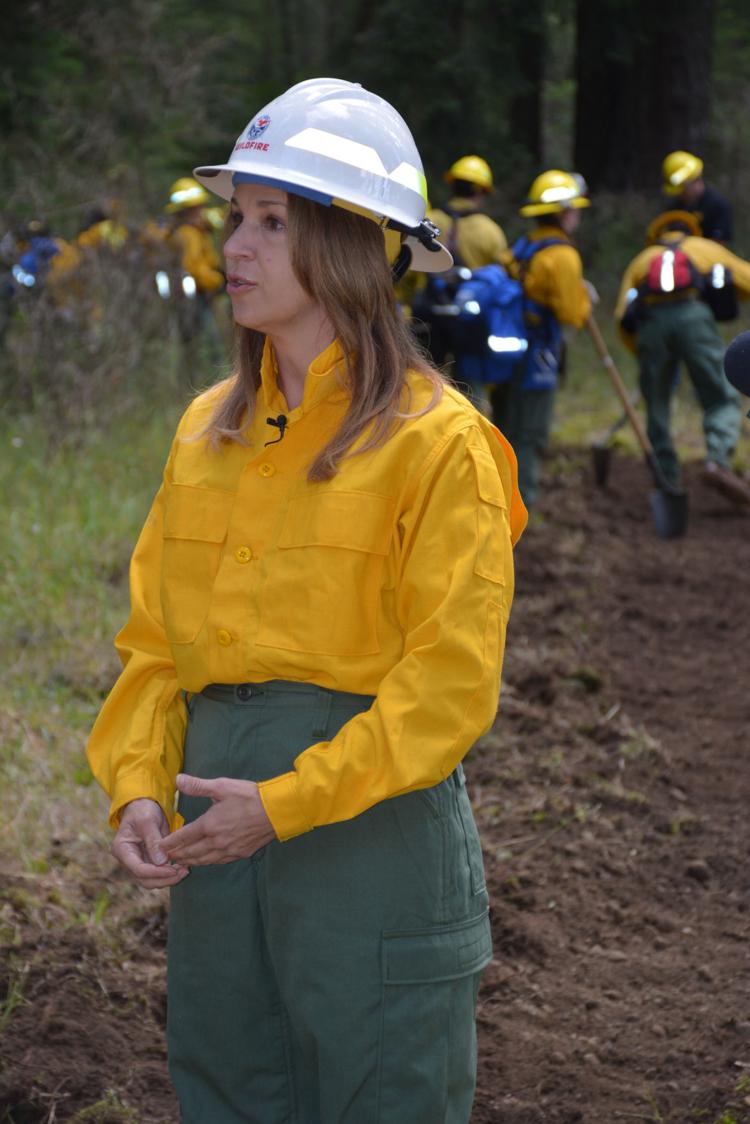 "We, right now in Washington state, have significantly underfunded our wildfire protection resources," she said. "Honestly, over the past five plus years, it has cost the state $153 million on average (per year) to fight those fires as we've seen more catastrophic fires on the landscape — and not just in Eastern Washington, but in every corner of the state."
In 2015, about 1,700 wildfires broke out in Washington alone. Then, in 2018, there were more than 1,850 wildfires in the state, with 40 percent of them burning on the west side of the cascades.
The good news? Since the academies have found their footing, the damage caused by each fire has decreased. In 2015, about a million acres were burned by wildfire activity, whereas in 2018, about 440,000 acres were burned. So in a few short years, the number of fires has increased, but the damage done by them has decreased by more than half, overall.
In addition to the academies contributing to this impact, Franz said that the decrease in damage done by the fires was also aided by firefighters pre-positioning equipment in areas known to present the highest threat. She also said that the tactics firefighters are using in the air have greatly contributed to the success state firefighters are seeing.
"A large part of that is the context of the work we've done in leveraging our air assets," Franz said. "The moment there's smoke in the air, we are getting our helicopters and our fixed wings on those fires so that we can contain them."
The air strategy is so important that the Western Washington Interagency Wildfire Training Academy brought in a helicopter to Rainier High School on Sunday, June 23, to teach them about the safety required when working in the field, knowing that air support will be incoming. Specifically, perfect communication is required to help people not get hit by water and retardants when they're dumped from above.
"It's all about being out of the way," said Albert Cassel, senior wildland fire investigator with Washington Department of Natural Resources. "Aviation water is heavy when it's coming down from a helicopter. Retardant is heavy when it's coming out of a big plane. It's all about the safety of the people, the safety of the firefighters and then doing the best we can for our citizens."
Above all, the academies are about connecting and unifying the firefighters across the state with common skills, and preparing them all to work together.
"The focus of all three academies, and specifically the western academy, is to provide training and coordination with the firefighting agencies knowing that when we go onto a fire incident … depending on whose jurisdiction it is, there's going to have to be a lot of intermingling that we are going to have to do," Truitt said. "So if we are on the same page getting the same training, it makes everything a lot easier for us."