For the last eight years, the Triad Theater has been a favored institution for art appreciators and local talent looking for an expressive medium in downtown Yelm. 
But that's about to change. 
Following a "Goodbye for Now" party hosted last Friday night to commemorate the theater before it vacates the historic Wolf Building, those associated with the theater have now turned their attention to two questions: Where will the Triad set up shop next and what will become of the Wolf Building?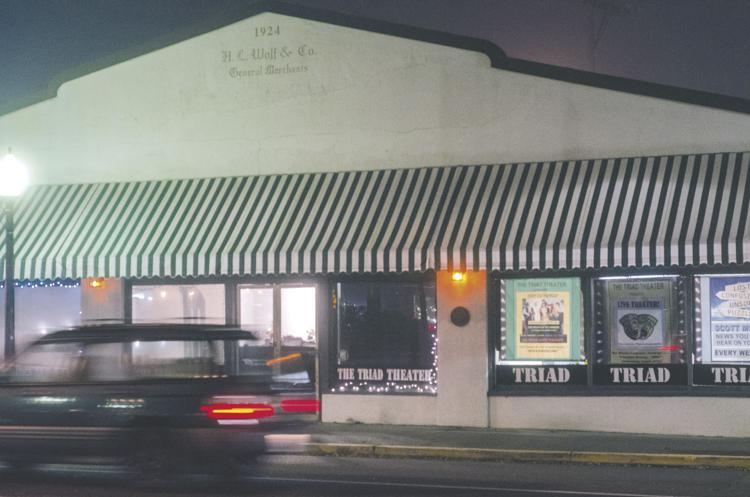 "We definitely need to have an art place," said Triad Theater Executive Director Cameron "Calamity" Jayne, who stood surrounded by a group of old friends and close associates coming to wish the best for Yelm's only theater. "We'll manifest that one way or another." 
Much of the eclectic decorations and posters that once lined the walls of the Triad are now gone. Props and furniture lined the rooms at the front of the building as guests ordered cheap wine and danced to popular hits in the empty auditorium.
Kevin McManus, a former Standing Room Only alumnus who now works with Olympia-based Goldfinch Productions, was one of many guests perusing  the theater. The 30-year-old's face occasionally lit up with a smile at the sight of a former cast member or theater volunteer. 
McManus first walked through the doors of the Wolf building, located at the corner of Yelm Avenue and First Street, in 1996 when he was just 7 years old.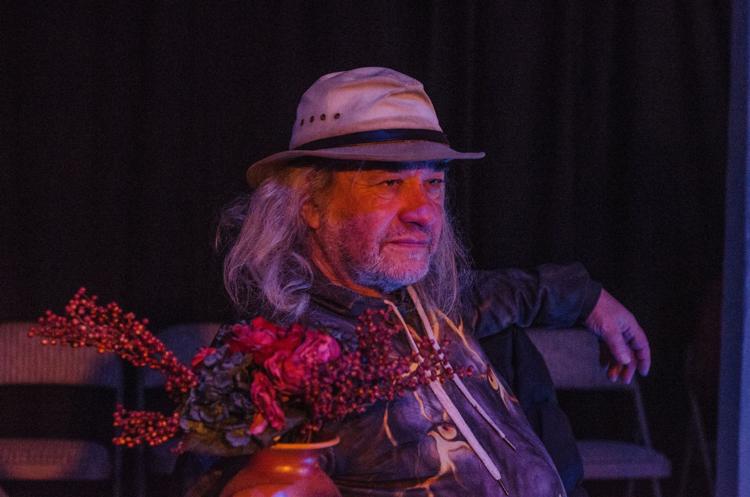 "My mom needed daycare during the summer and Nancy (Hillman) was pretty much there," he recalled. 
McManus grew up as a protege of Hillman, a Triad Theater mainstay who passed away earlier this year after suffering a stroke. 
Now, with the loss of the Wolf Building, McManus said there's a feeling of unease. 
"I don't think there's anyone that has been as impactful to me as Nancy Hillman, other than my parents. It's also a little odd we lost two greats in the same year," he said. 
McManus performed theater at the former Drew Harvey Theater company, which leased the space before the Triad, for about nine years. In 2011, McManus came back to Yelm to help Hillman and company jumpstart the theater company Standing Room Only. 
Although he doesn't spend much time in Yelm since moving onto bigger and brighter things, McManus said some of his favorite highlights included directing "Shrek" and "Twelve Angry Men." 
Local poet Edward Smith sat stoically at a table on the stage as the theater lights flashed different colors. The hum of chatter picked up at the nearby makeshift bar, accumulating a small crowd. 
The Yelm resident of more than 40 years looked around at all the familiar faces and smirked. 
Smith credits the Triad Theater for jumpstarting his passion of writing and poetry. Back in 2003, after publishing his first book of poems titled "The Day I Kissed The Earth," the scruffy venue played host to some of his first poetry readings. 
"I felt immediately welcomed. People were so warm," Smith said. "It was very pivotal and inspirational. It helped my inner writing muse to come alive and write poems." 
Sitting in a narrow walkway next to a small table of appetizers was Maya Silliman, a longtime Triad volunteer. 
For Silliman, the Triad and Jayne were something akin to lightning in a bottle. She said she felt that only Jayne and her quirky but loving demeanor could bring a successful art collective to the Wolf Building. 
"The only reason I've been here for eight years is for Jayne," Silliman said. "Jayne is a community leader. It's very sad, but also very encouraging to see how many people are here." 
Jayne, who was pulled this way and that way by party attendees, had little to say other than a thankful message to Steve Craig, the building's owner. 
"I hope that everyone knows that Steve played an instrumental role in the arts over the years," Jayne said.
Over a telephone call, Craig said he would like to encourage the community to rally behind Jayne in finding a new home for the Triad and said there was too much talent in Yelm for there to not be a local public theater. 
"I think Jayne gave it her all in bringing a cultural center to Yelm … It's going to be missed and it's with sadness that I'm seeing it closed," Craig said. 
Craig said he hopes to fill the Wolf Building with a business or organization dedicated to furthering the arts. He said the building had already received some attention within 24 hours of posting the building for rent. 
Despite the Triad leaving, Craig said the future for local arts is looking bright. 
"I think we're just scratching the surface and I believe we haven't yet experienced a harmonic convergence of the arts here in Yelm," Craig said.