It was already expected to be a busy year for firearm manufacturers and retailers. It is, after all, a presidential election year, which has a tendency to stoke political uncertainty in Americans and an increase in gun sales. 
But before the election could arrive, a pandemic happened. Then there were protests over police use of force. 
It was the perfect cocktail of unrest, and now local firearm manufacturers and retailers are experiencing an unexpected shortage of materials and products due to increased demands seen since early March, they say. 
Shortly before opening on a recent Thursday, Tom Engel, owner of i5 Guns and Ammo, stood behind the glass counter that lines the perimeter of his showfloor.
Rifles and other firearms were hung and displayed behind him, with roughly a third of the hangers bare. Some of the display holders underneath the glass counter were empty too.
Business for the small firearms retailer located off Martin Way has been booming, and that can be both a good and bad thing. 
With everything that's going on in the world it's not just gun enthusiasts purchasing firearms any more, Engel said.
"There's a lot of people buying," he said. "Two things we've been hearing a lot is 'never thought I'd buy a gun' and 'never knew how hard it is to buy a gun.'"
Due to the nature of the nation's political climate, more people are purchasing accessories, firearms and ammunition, which Engel said has been unexpected. The downside to the increase in business is that it's now harder to keep merchandise on the shelves and sometimes even more difficult to come across products everybody wants to get their hands on.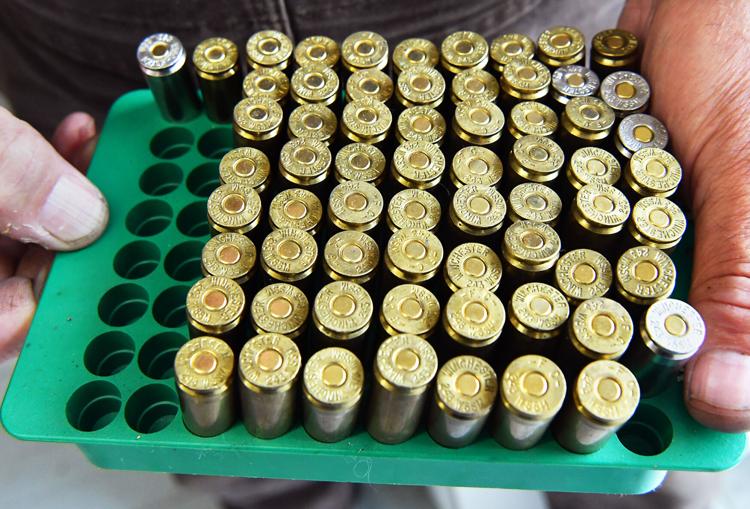 "The numbers are better, but the largest thing is that inventory is exhausted," he said, adding that high-demand firearms include defensive shotguns and handguns. 
With the scarcity of accessories and ammo also comes the increased demand for training. 
"It's just like if somebody wants to drive a car, they're seeking out instruction and training," Engel said. 
Engel, who networks and keeps in touch with experts in both manufacturing and distribution firearms sectors, said it's possible the country has surpassed the number of manufactured weapons it usually makes during the whole year in just four months alone. 
The uptick in business first started back in March, around the start of the COVID-19 pandemic. The FBI's National Instant Criminal Background Check System saw a record-breaking 3.7 million checks conducted during the month as a result. 
The number of checks stayed high. Then, in June, more than 3.9 million checks were conducted, beating out March as the largest number of checks conducted in the last 22 years.
In recent years, the United States has been no stranger to historic ammunition shortages. The early years of Barack Obama's presidency also triggered increased sales of both ammunition and firearms, and National Instant Criminal Checks reflect this.
"President Obama was our greatest gun salesman," said Brian Schuetz, owner of Olympic Arms, Inc., which operates one of the country's oldest AR manufacturing shops on the Nisqually Delta. "I've been through this same type of thing five or six times … There's always been these buying surges." 
Having worked in firearm manufacturing since he was a teenager, Schuetz noted that the supply for AR (ArmaLite Rifle) and rifle parts just cannot keep up with the demand. 
Working in the firearms manufacturing business can at most times be more volatile than it is lucrative. Schuetz said the problem with the sudden demand surge is that the market often doesn't recover its supply for another six months after the rush is gone, leaving the industry dry.
"Right now, from what I've seen, getting almost any type of firearm that you want is hard to do right now. They're just not available," he said. "For me to buy parts to actually assemble some of these is hard to do. I can't get some of them. There was a glut and now there's guys scratching the ground just to find parts." 
Schuetz, who has been head of Olympic Arms for more than 30 years, noted that just five years ago he had a staff of nearly 60 employees, but a surge and sudden price drop of the AR — the company's primary product — led to the company having to lay off most of their staff. 
A mix of government contracts and small customer business has kept their small staff busy throughout the years. For example, the shop just recently finished up a six-month government contract to build 6,000 training rifles. 
Schuetz said their shop used to machine make many of the smaller parts used to assemble an AR, but today they have to order from other companies to save on costs. The problem is when production increases and those parts become high in demand, it can be more lucrative to machine make them instead of having to rely on the market place.