Bill Camp, 71, breathes heavily through his nose as he tunes his six-string Tut Taylor dobro guitar on a recent cloudy afternoon in his office. His eyes stare at the clip-on tuner, glaring through the square frames that rest above his Einstein-esque mustache. 
Camp wears a blue shirt with a diagram of an atom printed on it and the words "Never trust an atom. They make up everything" on it. He sits down, begins picking and slides his ring across the instrument. 
"We're nothing more than a bunch of guys who like to pick," says Camp about his group of friends who meet periodically to play Bluegrass standards and other tunes. 
The room gets darker with the setting November sun. Camp turns away from his computer at the end of a break and starts playing again, his boots tapping on the hardwood floor. 
Camp has lived in his current house off Hobson Road just south of Yelm since January 2001. But over the last few years, Camp and his wife, Sandra Lippincott, have been fighting battles on two fronts. 
The first battle started nearby. 
Just 100 feet from his house, the Nisqually River has slowly eroded parts of his property, threatening his land and the three-bedroom, two-bathroom house where they live.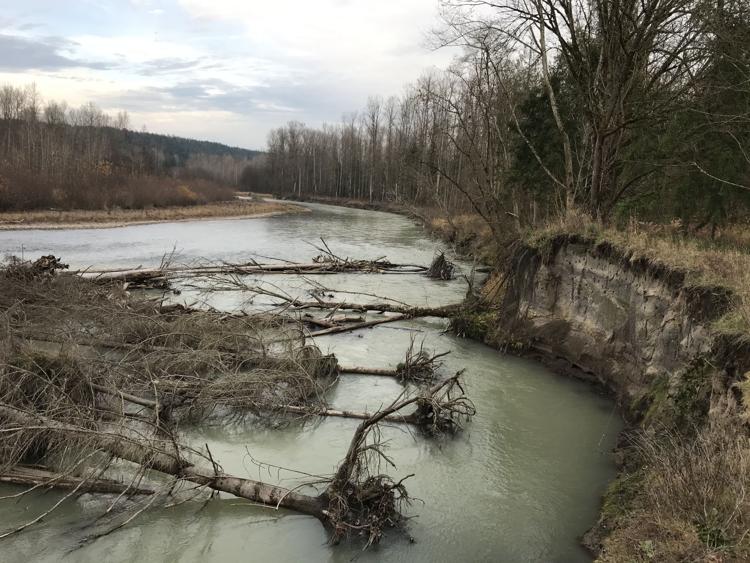 Camp has also been dealing with a heart disease that has recently impaired his health and shortened his lifespan. He and his doctors don't know how much time he has left. 
"I have no clue," Camp said, prefacing the statement with a laugh. "They say, 'well, could be tomorrow.'"
Camp said he contracted the heart defect after being exposed to Agent Orange, a cancer-causing defoliant, while he served as an Army sergeant in the Vietnam War.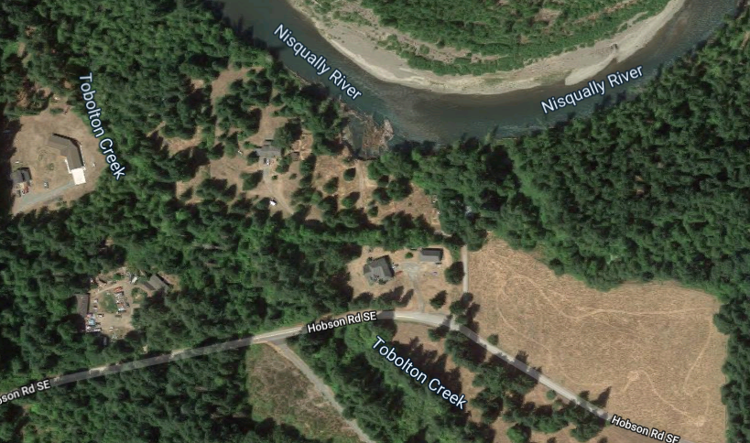 While his health hasn't improved much over the year, at least Camp won't leave Lippincott and his empty nest empty-handed. 
Last spring, the Nisqually Land Trust purchased Camp's property at market value — estimated at about $258,700, according to Thurston County Assessor's Office — to save him not only from the inevitable destruction of his property, but to use the property and others around it to improve salmon habitats on the Nisqually River and Toboton Creek. 
Camp also gave a portion of the property and a stewardship donation to help cover the costs of demolishment, said Executive Director Joe Kane. 
Their land, along with other recent acquisitions, will be tagged on to the nearby Wilcox Reach project. 
"The Nisqually Land Trust saved our ass," Camp said. "And we're thankful ... We're not maintaining this place for equity and value, we're just maintaining it for old people's farting." 
Camp and Lipincott will stay on the property until they are no longer physically able to or until Camp dies, whichever comes first, they say. 
Their situation, while disheartening, isn't a new phenomenon.  
Almost four years ago, a military family of four living next door, the Carr family, lost their home after the river eroded a large portion of their property when a large storm increased the water flow.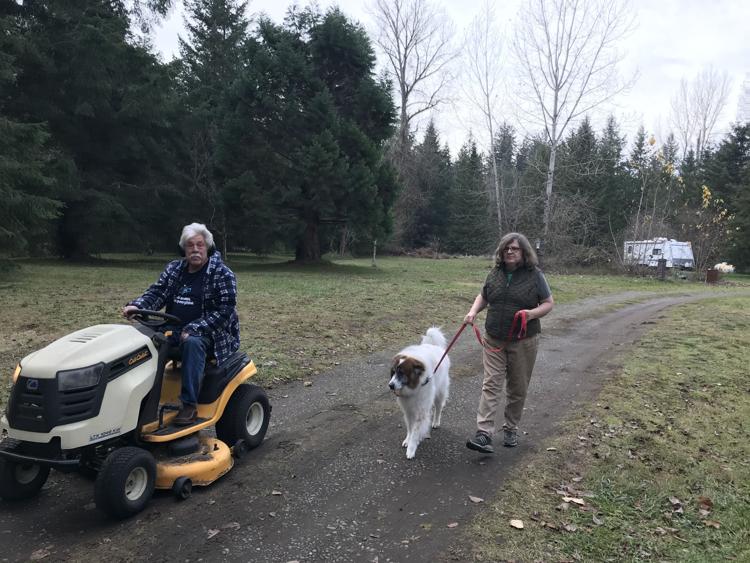 The Land Trust eventually purchased the Carr family's land as well as a property on the other side of Camp's house. Today, Camp's neighborhood is mostly silent, as their two neighbors took buyouts from Land Trust. They're the last residents living on their drive, and the couple said experiencing the Carr incident was a wakeup call. 
Outside, Camp and Lippincott point out the small tree saplings the Land Trust has planted along the river and creek, which will eventually cool salmon habitats and provide small bits of stabilization for the eroding geography. 
Lippincott walks their 12-year-old Great Pyrenees dog, Lovejoy. Camp ventures from a yellow and white riding lawn mower with one tail light out. 
He points out a dry bank across the river from where the former Carr residence used to stand, over on the Pierce County side. The Nisqually, Camp said, used to flow through the dry embankment. But because of the movement of the Nisqually and increased river flows due to upstream dams, Camp estimates the river has eaten up about 1.5 acres of his property since he moved to Yelm, although he's never had a formal survey of the land. 
Another problem is the salmon, which Camp, formerly an avid flyfisher, said are scarce. Camp pointed to the overarching trees and the river basin and noted that the presence of wildlife is a good indicator of how the salmon runs are. 
"They're here, but there should be a feast," Camp said. "That's what would really make this place explode, is a big food source." 
Due to Camp's deteriorating health, both the Land Trust and the small family of two feel there's no reason to rush the process of moving out. Camp said he's ready to die on his land, in his forever home, and he does have time — and about 100 feet of buffer between the river and their house. 
The one thing Camp and Lippincott say they cannot negotiate on is their failing well, which they say could go out with another bad storm. At that point, they said they plan on moving to Vancouver, where they'll live with family.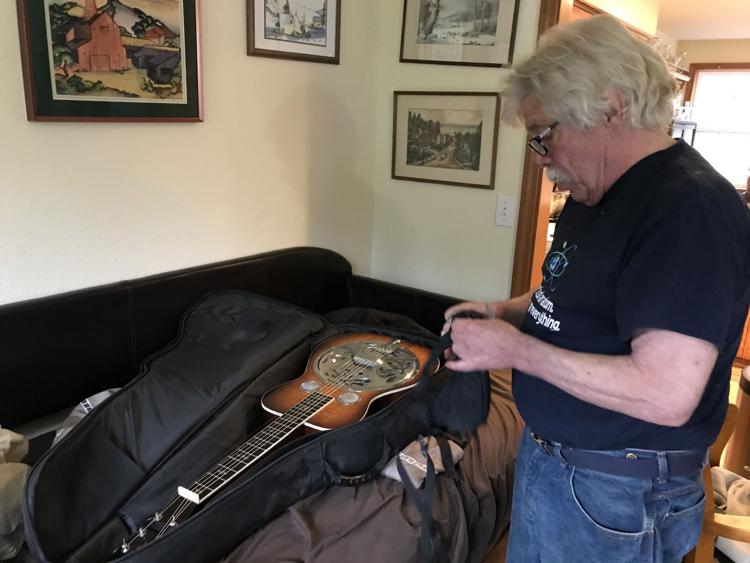 "That's when we move," Camp said. "Got to take a warm shower." 
Lippincott said they didn't come into the agreement with the Land Trust easy. There was much debate about the ethics of selling their home, especially with the uneasy land. Still, Lippincott said, they were the third people to own this house. 
"People would say you had to sell, but we just didn't feel it was principled to do that. It wasn't the right thing to do. The realtors said we could sell it ... and it just didn't seem right," Lippincott said. 
"But, selling the house, you'd have to get someone dumb enough to buy a house that's aimed at, locked-and-loaded, the full power of the Nisqually River." 
Kane, executive director of Nisqually Land Trust, said the geology around this section of the Nisqually River is problematic. The land underneath their feet is unstable and is essentially made out of the same geologic rock as the floodplains miles down the river. 
"Down there, as you get along into that main flood area, especially near the Wilcox Refuge, it's a lot of sand and mud," Kane explained. "(The river) sweeps like a windshield wiper along that floodplain overtime." 
Despite living with sand underneath, Camp said living along the Nisqually River has been something of a naturalist's dream. 
Camp said they've hosted a number of musical jam sessions in their backyard, along the Nisqually. They're most memorable event was the aptly-titled "Moon-Howl Pick," which they hosted just a few years ago. 
"It was a full moon early in the evening, there were a bunch of coyotes and everybody came over. We played lots of music and howled at the coyotes. Now, how could it get any better?" Camp said. "This little hollow down here is interesting — there's an acoustic phenomenon down here. You don't have to use all that much volume to hold sound in the air… the sound just rang all the way out here without a PA system." 
And, for Camp and his bandmates, that's just added to their appreciation of the river.