It was 1986, and Yelm resident Dan Powers had just spent six years eking out a living playing music — some solo jobs and others with country and southern rock groups — but finally decided he needed to find a more traditionally stable occupation.
So, at age 33, he did what any guitar-strumming, modern-day troubadour might do …
He joined the United States Army.
"I wanted to learn how to do something different and still keep a roof over my wife's head," he said last week from D&D Computers, the Yelm business he's owned for 25 years.
We'll get back to D&D a little later, but first let's meander a bit down the mercurial road that took a darn-near middle-aged man to Germany where he would learn to repair military satellite communication equipment.
We'll start at the beginning: Powers, 67, was born in Longview and moved to Yelm with his family in 1969 — graduating from Yelm High School in 1972 — then subsequently relocated to Olympia in 1974 where he met and married his wife, Erna Powers. The couple stayed in the capital city until 1979 before moving back to Yelm
Along the way — since about age 15 — Powers spent much of his time in what were then called "service stations," gas stations in modern parlance.
"They were called service stations then, because we actually serviced vehicles for our customers," Powers explained. "I did everything from pumping gas, changing and repairing tires, changing oil and tune ups."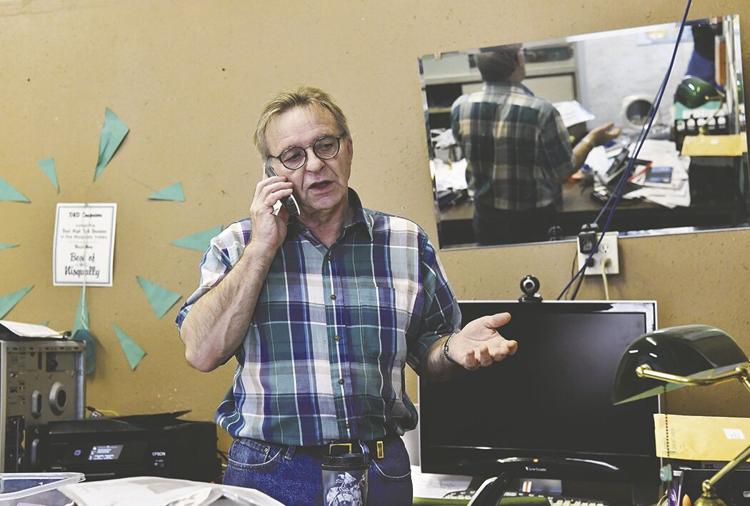 Then in 1972, the intrepid grease-monkey and businessman bought his own service station in Olympia — which might have turned out just fine except that in extraordinarily unfortunate timing the purchase preceded by a mere 16 months the October 1973 Israel-Arab Yom Kippur War.
The resulting oil embargo imposed by the Organization of Petroleum Exporting Companies (OPEC) against the U.S. and other countries for supporting Israel seriously impacted the amount of gasoline service stations received and led to soaring gas prices and long lines at service stations.
"Essentially, I was crippled right from the start," Powers recalled. "I was selling one-third of the gasoline I'd been selling before the embargo. It was amazing how long I was able to stay above water."
Seven years to be exact — from 1972 to 1979.
But by then, Powers had had enough. His marriage to Erna in 1977 — with whom he's lived for 43 years — highlighted his decision to let the service station's lease expire and seek work elsewhere.
"I had to feed a wife and my family, and by then I'd burned down the business to the point where I couldn't survive," he said. "I couldn't generate a profit for the first three years in business because of the gas rationing."
It wasn't long, however, before he landed a mechanic's job at a Centralia Ford-Datsun dealership — which also might have been fine, except that the dealership went broke two years later.
So he decided to clean his hands and play music.
The decision, though not exactly a linear career leap, wasn't really as odd as it sounds. Powers had been playing guitar and bass since age 12, so he knew his way around the fret boards. Now he simply needed to find other musicians to join him.
Having been in the Yelm and Olympia area by then for about 10 years, he was able to stitch together music groups to play gigs and make some money. The bands played clubs, "biker joints" and resorts mostly from Longview to north of Olympia. Then the last two years of his musical enterprise Powers played solo gigs as a singer and guitarist at a variety of area events. He also augmented his musical livelihood with car mechanic jobs on the side.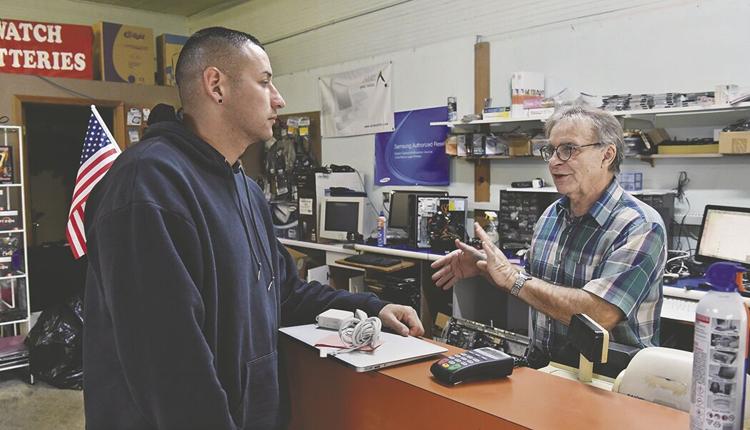 Then Uncle Sam nabbed him — the patriotic icon's jabbing finger pointing straight to the Army.  
In Powers' desire to find a new vocation, he researched the different branches of the military and discovered the Army offered opportunities to repair satellite communication equipment, which were used for strategic communications such as electronic spying and transmitting data.
The possibilities intrigued him, so he joined. Once his training period ended, he soon found himself repairing satellite dishes that measured 38 to 60 feet in diameter.
Powers' Army tenure lasted from 1986 to 1994. He ended his military career as a sergeant and came home with a college diploma, to boot. The military's program of college extension campuses allowed him to graduate with a degree in liberal arts from the University of Chicago.
And though he appreciated the opportunity to further his education, his degree didn't exactly equip him to open a computer repair store in Yelm.
"The college helped out not one little bit," he said last week, his tongue nowhere near his cheek.  
But he'd learned enough in the Army repairing sophisticated communications satellites — and for about seven years simultaneously researching on his own the intricacies of computers — that he felt comfortable by 1994 opening D&D Computers. 
He operated the business for the first five years from Nisqually Plaza near the Sunbird Shopping Center and then moved to his current location on First Street where he has been for 20 years.
"This PC stuff always came easy to me," Powers said. "If you can repair a "traveling wave tube (TWT) amplifier transmitter at a satellite terminal, this stuff is easy."
According to Powers, a TWT is used for extreme high-powered amplification of microwave frequencies that transmit information to satellites.
"The NSA (U.S. National Security Agency) uses that kind of information for intelligence analysis on other countries to find out what they're doing and to monitor especially the bad guys," Powers said.
There are no bad guys at D&D Computers — at least none Powers knows of. There are, instead, customers from Yelm, Roy, Rainier and as far away as Gig Harbor and Longview who come to him with their personal computer issues.
He works on both PC- and Apple-based desktop and laptop computers. He figures he sees an average of 15 to 30 customers a week, and almost all of his new clients have heard about him through word of mouth, he said.
Most of his customers come in needing software services such as rooting out malicious marketing software, though about 40 percent of his work is hardware related. He believes that some people who could use his services elect, instead, to buy new computers — and sometimes end up on the raw end of the deal.
"Sadly, because so few people understand the details of the specific components in computers, they will sometimes assume they can get it cheaper," he said. "So they go to the store and end up purchasing less computer than they started with because it looked the same."
Though at age 67, Powers wasn't exactly born into the computer age as are today's kids, he keeps up with the latest trends in computer hardware and software technology. He seems to genuinely enjoy it, for one thing — and it's imperative to running a successful business sleuthing customers' computer problems.   
"I get a sense of satisfaction of helping a customer through their computer issues in the most effective and cost-effective manner possible and then explaining it to them," Powers said. "I love what I do, and what I do here is fun."
Mary could probably attest to that.
The Rainier resident, who preferred to use just her first name for this story, is one of D&D's biggest fans. She wrote in an email last week that for years she has relied on Powers to fix her computer problems.  
"He repaired my laptop and custom built my desktop, all with my complete satisfaction," Mary wrote. "I got a nasty virus, and Dan cleaned it up and has things humming once again. His pricing is very reasonable, and he actually does what he says he will do."
Rainier resident Noble Warrant seconded Mary's appraisal. Warrant, 81, wrote in an email this week that he's tapped Powers' computer prowess for more than 20 years and praised the business owner's "outstanding advice and concern for his customers."
"(And) it's not just me," Warrant wrote, "but I have observed other customers being treated beyond what would be considered normal business practice, giving advice and solutions without charge. Truly that is rare."  
And Powers expects to keep advising and resolving as the computer world continues to spin on its axis of change — though COVID-19 has affected his business as it has just about everyone else's.
He's having trouble, for instance, finding processors to fix the computers in his shop. The pandemic has made locating computer parts as difficult as finding Waldo in a kid's game — and that's made computers temporarily more expensive, Powers said.
"At least for right now, there are no dirt-cheap computers out there. The pandemic has affected all levels of the supply chain, but I would expect the computer industry to pick up again in about a year. The free-market always finds a way."
In the meantime, Powers will find his own way — both in business and at home. His mom, Darlene Rose, lives near him down the same ¼-mile driveway that leads to his Thurston County house near Yelm, his younger sister lives in Olympia and his younger brother lives in Rainier. So he's never far from family.
And he's never far away from what one might call his second family — at the Calvary Chapel of Yelm, where he is the lead guitarist for the church's worship group. The band, composed of musicians playing a mixture of electric keyboards, guitars and drums, prompts others in the congregation to sing a variety of contemporary and modern Christian music.
Powers is one of the church's stalwarts, said Calvary Pastor Nick Costa, 57, who has led the church for the past 10 years.
"Dan is one of the most faithful to serve in our congregation," Costa said last week. "We can always count on him to always be there to help and be there for conversation. He's just an all-in-all great person to have with us."
Moreover, when Powers — who brings songs of his own to church services from time to time — gets the worship group going, the congregation's singers rev it up. It's one of God's natural phenomena, he believes.
"God doesn't care how you sing," Powers said, "He just wants to hear you sing."
"Sometimes the congregation sings so loudly that the people next door can probably hear it," Costa said. "The congregation loves the music and the devotion of the worship team to the music."
Costa also admires Powers' computer knowledge, having relied on it one night about a year ago when he called the mother-board guru with a software-related problem.
"He stopped everything he was doing and walked me through the process until it was done and working again," Costa recalled. "We stayed on the phone for about an hour to get it fixed, and he never got frustrated. That's just the type of person he is."
And that's probably why Uncle Sam pointed directly at Powers when he said "I want YOU for U.S. Army.