Kit Potts had a choice: his sons or his workshop.
Sounds like an easy one, doesn't it? But when you've accumulated thousands of dollars worth of power tools and other equipment for your shop over the years it gives a man pause to think.
It was about 11:15 a.m. on Thursday, Feb. 6., at Potts' home on 6th Avenue S.E. in the Nisqually Valley. Rain was falling, turning dirt to mud in the yard around his approximately 3,000-square-foot workshop when within seconds the water that had begun to cover his feet suddenly rushed in like a "mini-tsunami." As far as Potts could tell, a small levee in back of his property broke and began the deluge even before the Nisqually River — which lies about 400 feet farther from his property — broke its banks.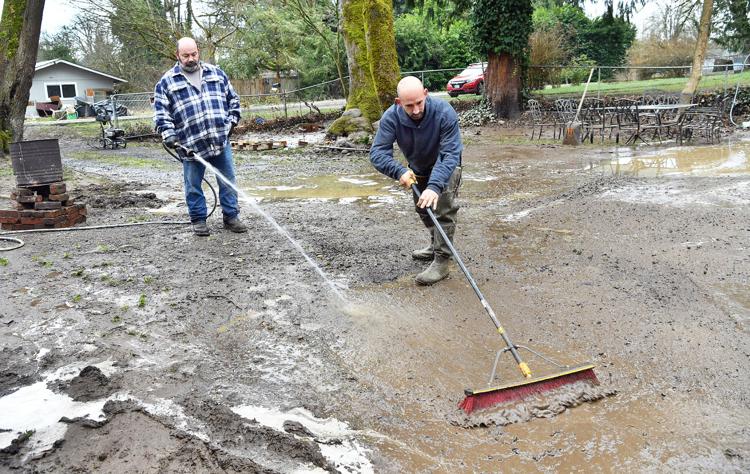 "Within seconds the water was up to mid-thigh," Potts, 57, recalled on Monday, Feb. 10, as he and his sons began cleaning up the slippery, mucky mess that once was his front yard.
On that fateful Thursday, his grown sons were in the workshop trying to save their old man's tools — his passion — when their dad arrived home from work about 10 a.m. The water at that point was still low enough to engender hope the tools might be saved — if the boys hurried. But in a flash all was gone.
"The water level was just going up and up, and my tools started floating," Potts said. "The situation was becoming unstable, and I just had to let the shop go. Within an hour of me coming home everything went to hell."
By 3 p.m. that day, the water had risen to waist deep, and by about 9 p.m. Friday night, telltale stains on workshop cabinets indicated the water had risen to 4 1/2 feet.
But despite the calamity to his property and what he suspects is a "total loss" on his equipment, Potts finds great solace knowing his family survived.
"I had to pick between my sons and my equipment," Potts said. "I felt I had to get them out of there because it was becoming too unstable and could have been life threatening. That was the most frightening part of the whole thing — having my boys in there. But my family is OK, and that's what counts."
For David Potts, 35, one of Kit Potts' sons, the experience was surreal.
"It's been really hard watching what my dad's going through with his shop," he said. "Before you knew it there was this wall of water coming our way, and we just had to get out. It's just unbelievable. I've lived here for eight years and have never seen nothing like this."
Potts has lived on the 6th Avenue property for a year after transferring to the area for his full-time job with Terex Utilities, which manufactures aerial devices, digger derricks and auger drills for the electric utility industry. He also owns several adjacent properties on 6th Avenue occupied by his sons and daughters. All of those homes survived the flooding because they were high enough off the ground.
And though he's certainly grateful the homes survived, it was his shop of propane heaters, electrical and air tools, saws, a rototiller, pressure washers, a refrigerator and brand-new cabinets that had been destined for his home kitchen that seemed to be his passion. He used much of the equipment to sculpt metal, repair automobiles, and forge knives — supplemental income to his Terex job.
"All the years accumulating the tools and the cost … and now losing them is devastating," he said, looking down and shaking his head.
Pott's wife Karen feels the loss, too.
Potts, 54, who's been married to Kit for 30 years, survived her "very first experience" with floods, but will undoubtedly recall the event for a lifetime.
"I went out to my porch as the water began rising and thought 'Oh my gosh, how can this be happening?' I was in shock. It all happened so quickly that it didn't give you time to think. You just had to react."
By the time she and Kit arrived home at about 11 a.m. Saturday — after staying in a hotel Thursday and Friday nights — she was both relieved and saddened.
"I was relieved the house was OK, but saddened for my husband because his life's work was in that shop."
And now Potts doesn't have much choice but to hope — and remain optimistic.
"We need to be able to access the shop, get things out, and see how much — if anything — we can salvage," he said.
Standing near his dad in the quagmire of a yard that Thursday, David Potts had lit a makeshift fireplace inside a metal container stuffed with kindling — doing what he could to offset the the portable heaters the floods had ruined.
"We're just trying to stay warm in the muck," he said with a wry grin.