Local Boy Scouts of America Troop 1932 is filled with 13 girls.
The girls' inclusion in a traditionally male-only organization occurred for the first time in February 2019. 
The organization decided to allow girls 11 to 17 years old to join BSA and "do all the fun things the boys do," as Colleen Fanning, 15, said.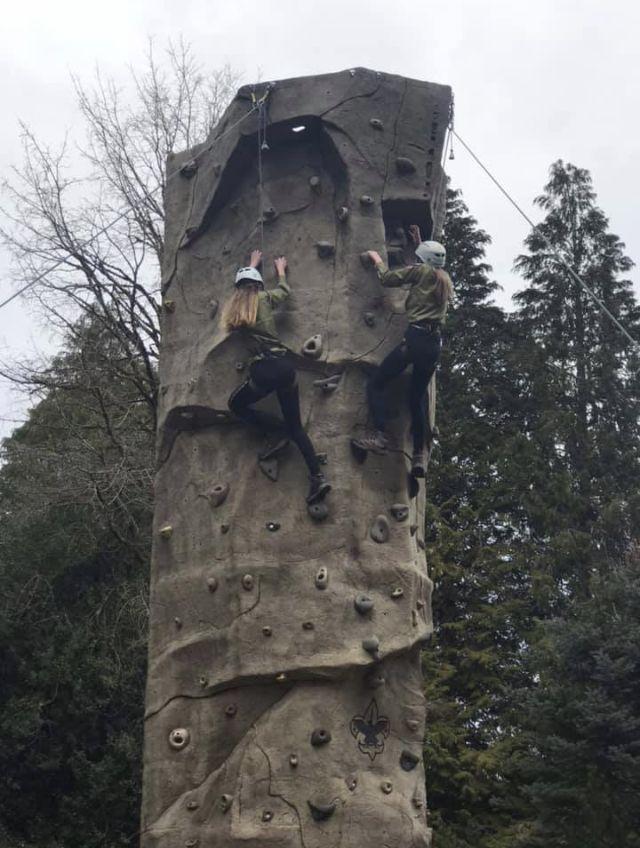 All the girls are steadily marching the path to becoming Eagle Scouts. Colleen's older brother, Daniel, 16, is already an Eagle Scout. 
"I've been watching him since I was about six years old and he was in Cub Scouts," said Colleen. "And I wanted to do what he was doing." 
Colleen was in Girl Scouts, and still participates in that organization, as well as being active in BSA. 
So, in addition to going for the Eagle Scout award she is also going for the Gold Award in Girl Scouts. 
"Lots of merit badges," she said. "I'm always working on merit badges for both." 
Colleen's parents, Chris and Tracy Fanning, like that their children can go to the same events together.
"Many families can't take their kids to different meetings," said Tracy, "so by allowing girls into the Boy Scouts, it helps the families."
"Plus, I really like being able to camp and do all the things the boys do," added Colleen. "I always wanted to do the really high rope bridges and now I can because I'm in the Venturing Crew 643." 
Colleen recently started her sophomore year at Yelm High School, and in addition to all her scouting, she is involved in Air Force Junior Reserve Officers Training Corp (JROTC). 
"I might go into the Air Force," she said. "I think I want to be a linguist." 
She lived with her family in Japan for several years. 
"I don't remember Japanese too well," she said. "I wish I remembered it better. I'm learning French now."
The best things about being in the Boy Scouts? 
"Camping, being with my friends and I get to walk in my brother's shoes," she said.
Emily Turbeville, 14, just started eighth grade at Ridgeline Middle School. 
"I got into Boy Scouts because my brother, JJ, recruited me," she said. 
And how old is her brother? 
"He's eight," she said. "He wanted me to join. And I did because Boy Scouts get to do a lot more than Girl Scouts do and is a lot more fun."
Recently, Emily and her troop stayed at Camp Pigott at the foot of the Cascade Range where troops from around the world stay. 
"I like camping the best and meeting people from all around the world," said Emily. "I might go into the military when I'm older." 
Her father, Jim, is in the Army.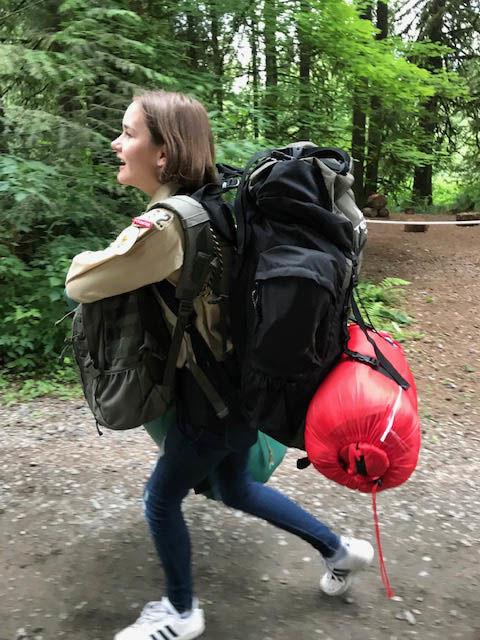 "I take horseback riding lessons," said Emily. "When I'm grown up, I want to have a lot of horses." 
Both girls, and the rest of their troop, love the expanse of the new world that has opened before them.