Brooke Klumpp, a special education senior at Rainier High School, has long held two wishes close to her heart — she wanted to be a princess, and she wanted a forever home with the Klumpp family.
Both of her wishes have now come true.
Brooke, who will be 21 in November, has been in extended foster care with Kurt and Carmen Klumpp of Rainier for five years, and she loves being with them.
When Brooke is asked what makes her unique, she always says, "I am unique because I have a family that is making me a permanent part of their life."
Brooke will be officially adopted by the family during a court proceeding on Friday, Oct. 25. That means legally she will be part of the Klumpp family forever.
"I want my last name to be Klumpp," said Brooke. "And not H anymore."
She doesn't even like saying her old last name, though, at the same time, she is very thankful that her birth mother is allowing her to be adopted by the Klumpps.
Her princess wish came true as well.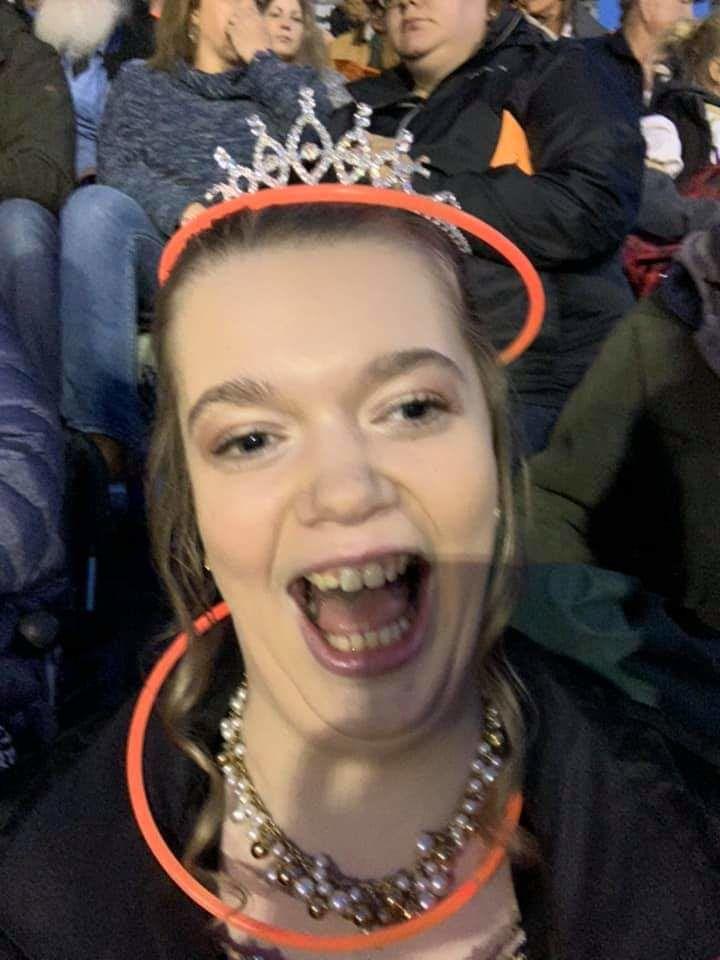 Carmen Klumpp, Brooke's adopted mom, said that during all the time they've known Brooke, she has loved the idea of being a princess.
"She loves all the Disney princesses," Carmen said.
Brooke is very proud of her bedroom because her walls are covered with pictures of princesses, such as Anna and Elsa of "Frozen" fame. Princess statues are prominently places on her table and shelves. Even her bed coverings are princess-themed.
"Now I'm a real princess. Here's my crown," she says, holding up proof in the form of her recent Rainier High School Homecoming queen crown. 
"Remember," said Carmen. "You're now a queen, too."
For a week at Rainier High School, Brooke was a Senior Homecoming Court Princess. On Friday, Oct. 4, at the school pep rally, Brooke found out that the students had nominated her as one of the Homecoming court princesses.
"She was so surprised," said Carmen.
Brooke radiated happiness. Normally, Brooke wears a helmet to protect her from falling, but she carefully and regally displayed her princess crown without her helmet.
Brooke's caretaker is also her newly minted adoptive sister, Courtney Klumpp, who is 26 and lives just down the road. Courtney explained some of the chaos before the crowning.
"We were going shopping for a homecoming dress and Brooke was really tired and wanted to take a nap," she said, adding that Brooke takes a lot of medicine, including anti-seizure medication that can make her tired.
"I asked her what color dress she wanted to wear," continued Courtney. "Like, pink, purple, silver, blue, what?"
"That's right," said Courtney. "She just wanted sparkles."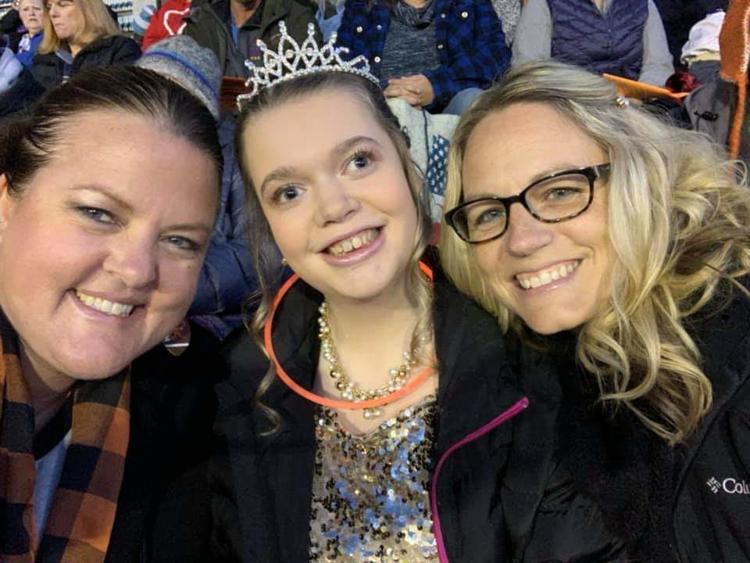 Courtney and Carmen quickly searched stores and found a dress glowing with sparkles.
Brooke's cousin, Takota Tibbet, who goes to Rochester High School, offered to take Brooke to her Homecoming dance. His Homecoming had been the week before.
Then, one week later on Friday, Oct. 11, at the Homecoming football game between the Rainier Mountaineers and the Onalaska Loggers, when the game paused for half time, Brooke's moment came.
Sporting her sparkly dress and her princess crown, Brooke arrived on the football field in a red 1947 Ford Coupe owned by Steve Ellingson with the other homecoming princes and princesses.
Brooke was declared the 2019 Homecoming queen. She received her crown from the 2018 Homecoming Queen Shady Noble. Brooke's escort was football player and Homecoming King Brody Klein.
The Homecoming dance on Saturday was when Brooke got to really revel in being queen. Kurt and Carmen were at the dance, watching over their new daughter. Balancing her queen's crown, her new adoptive father, Kurt, danced with her as well as her date. Brooke asked Brody if he would dance with her, and he of course accepted.
"He danced the last three dances with me," said Brooke. "Two fast dances and one slow dance."
"The kids were so wonderful with Brooke," said Carmen. "A bunch of them gathered around Brooke and they all danced with her in a circle."
Kurt and Carmen observed that students didn't just vote for Brooke because of her disabilities, but because of her fun personality and the way she smiles and brightens up the school.
"This says so much about the kids at Rainier High," said Kurt. "We were told that the vote was overwhelming. I think that show how the students put others before themselves."
"So many people have helped Brooke," said Carmen. "One person donated time to do her makeup. Another person did her hair. She has so many people who care for her at school, teachers, paraeducators and office staff. Principal John Beckman was so excited that she won."
Brooke, like all seniors, will graduate at the end of the school year and will have to decide what is next.
"I don't want to stop going to school," Brooke said.
"I know how much you love school," said Carmen. "Maybe you can volunteer in the office next school year," Carmen said, comforting her.
Brooke responded with a smile that was fit for a queen.