Based on the sheer number of families and young adults scurrying around the grounds outside the Tenino Depot Museum on Saturday afternoon, the main attraction at Oregon Trail Days had nothing to do with summer festival stalwarts like fried food or carnival games.
Sledgehammers and tandem saws proved to be the most popular at the annual celebration of the pioneers who settled 150 years ago in what would become the Stone City. The sounds of metal spikes being driven into railroad ties and wedges driven into logs to split off fence posts echoed off the trees outside the museum, the Ticknor School first built in the late 1800s and the stone walls of the Quarry Pool.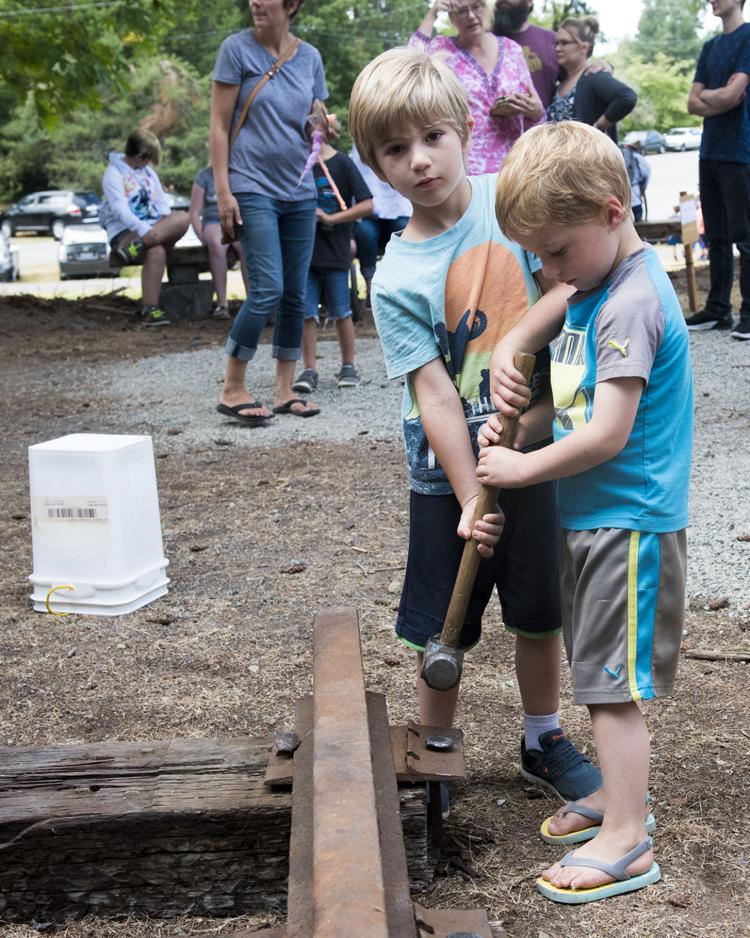 "It's so great for kids to come out and get a sense of what life was like back in the 1850s," said Bob Hill, who began Oregon Trail Days a dozen years ago, when he sat in the middle of the city park and helped kids cut shakes out of a cedar log.
Saturday, Hill stood beside a short section of old railroad tracks and supervised as children took swings at loose spikes holding the tracks to a wooden base. Most people swung only with a smaller sledgehammer — some of the youngest participants could barely it above their shoulders — but a few older patrons took aim with a full-sized mallet.
"For some of these kids, this is what their great-great-grandparents did for work every day," Hill said. "It's great for the kids to get so much hands-on experience out here, and I want them to also get a sense of how hard it was to work back then. A lot of times, the parents are really happy to see their kids having fun all afternoon without sitting in front of a screen."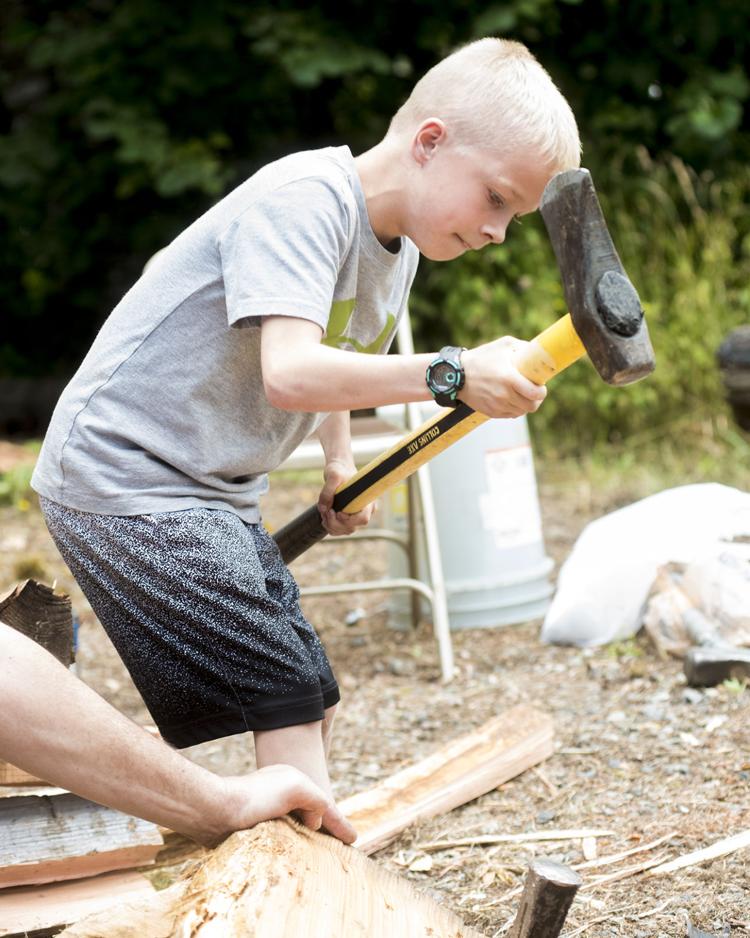 More than 20 activities ranging from blacksmithing to rope tying were set up for demonstrations during the festival, which ran from Friday through Sunday. Traditional fair food and drinks were available in a field outside the pool, with vendors and games set up just a few paces down the walkway. 
Country music recording artist and Tenino native Adam Craig headlined the nearby Four Square Mile Music Festival on Friday and Saturday nights — Tenino Mayor Wayne Fournier and other city officials presented Craig with a key to the city and a proclamation naming Craig's "The Town That Made Us" the official song of Tenino.
Saturday was as busy as Hill has ever seen his festival. He credited that to a combination of pleasant weather and the sheer number of free activities available to the public. 
Arguably the most popular task Saturday was the candle-making station run by Swans Candles, which has been a staple of Oregon Trail Days for the past six years. Children and adults alike crowded under an awning, where they dipped string attached to the end of a wooden handle into vats of hot wax and then into buckets of water.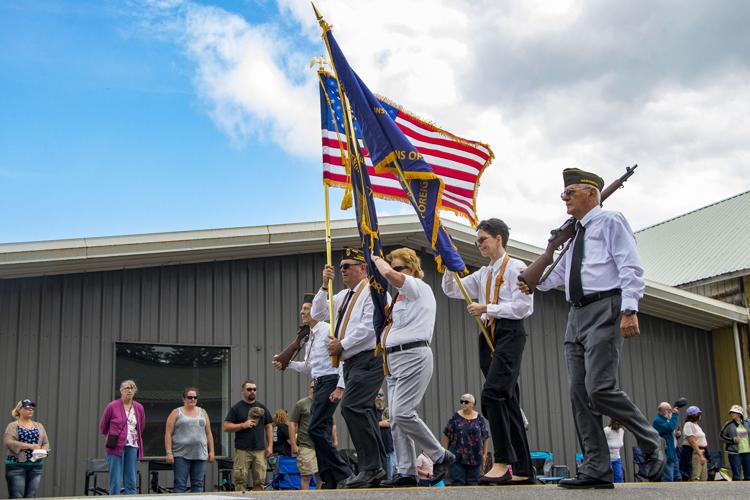 After repeating the process about a dozen times, enough wax had gathered on the string to be formed by hand into the shape of a candle. Those with deft hands were able to combine the bright purple and orange waxes to make an eye-catching swirl.
"I think for a lot of people, it's about being able to make something here they can use at home," said Pete Davis, co-owner of Swans Candles. "(Hill) asked us to come out one year, and we've done it ever since, because it's a chance for us to give back to the community."
During a rare period without anyone reaching for his sledgehammers, Hill admitted that he never thought what started with a single log in the park would grow into such an all-encompassing centerpiece of Tenino summers. Just the hands-on portion of the festival has grown by 2-3 vendors each year.
Among those making their first appearance at Oregon Trail Days was the Northwest Dutch Oven Society, a Tacoma-based organization dedicated to promoting the use and preservation of old-time Dutch oven cookery.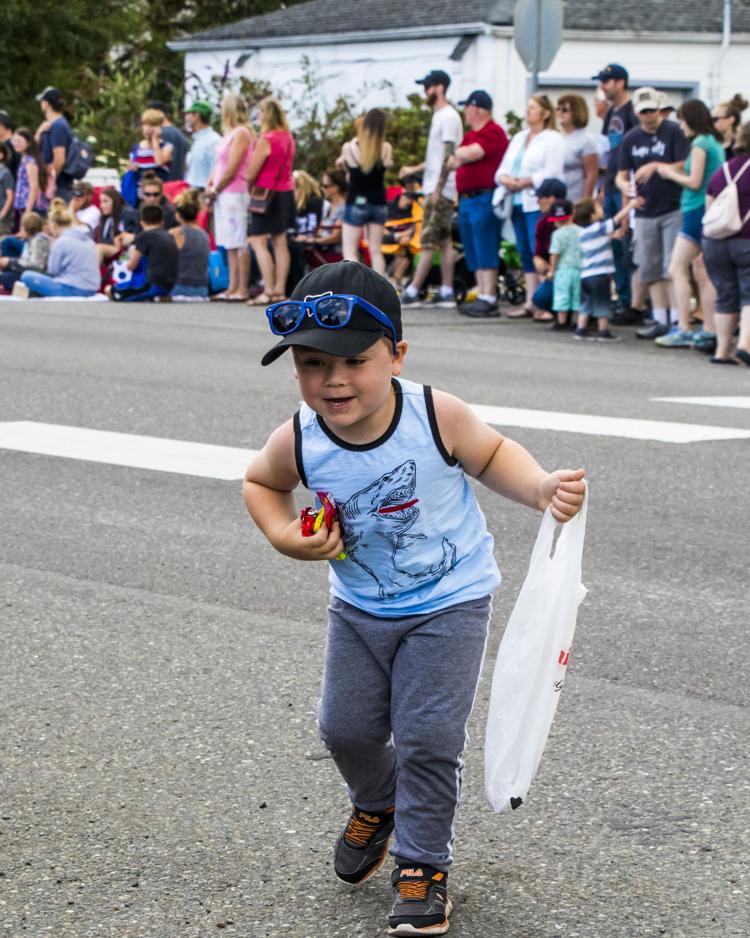 What often happens, Hill said, is that adults make up the majority of participants during the first year a new demonstration is available. After that, children are the predominant demographic at most booths.
"It's definitely busier out here than last year," Hill said. "Everyone who comes out gets a chance to experience the history of what life was like for the people who came out here and built this town. They get the opportunity to not only see it, but to do it."