Adults, kids and adult kids, go play at Lake Sylvia State Park.
Hidden in the hills between Olympia and the Washington Coast, Lake Sylvia is a classic state park. Set in a former logging camp above the historic town of Montesano, park life revolves around a large swimming and fishing lake that draws families to its shores all summer long.
While children head straight for the water or the playground, grown-ups and teens take advantage of the old logging roads-turned-bike-trails. You may end up muddy, tired and happy after a day of riding.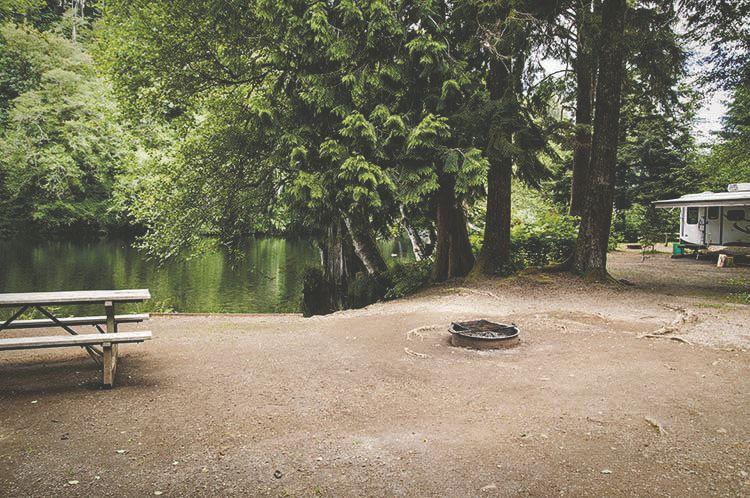 Hikers come from all around Southwest Washington to cover the year-round, 5-mile loop trail, which rolls gently from the campground, over wetlands and a small covered bridge. A walk around the lake reveals a dam that provided hydroelectric power to the logging camp in the early 1900s. Park trails connect to a network of hiking and biking trails in the surrounding 5,000-acre Montesano City Forest.
The kids won't want to get out of the water on a warm summer day, so why not make it a campout at this charming family park?
Lake Sylvia State Park is a wooded, 252-acre camping park with 15,000 feet of freshwater shoreline. Aside from displays of 20th-century logging gear, the lake offers abundant fishing, and the rustic charm of the park makes for excellent day and group camping trips.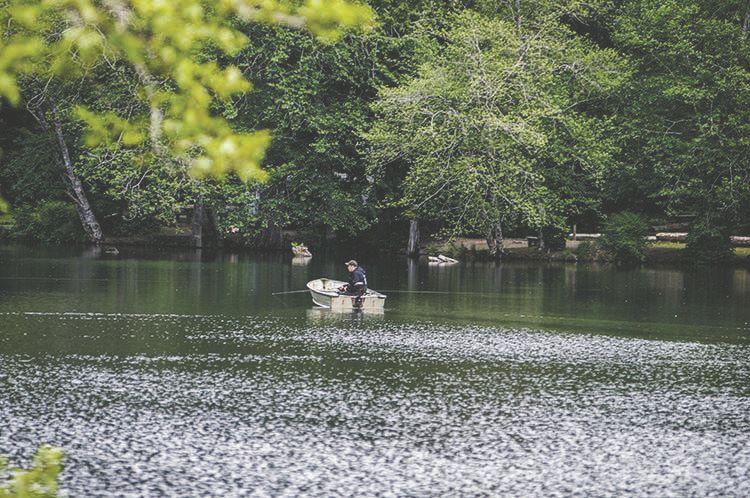 Michael F. Luark homesteaded at what is now Lake Sylvia State Park in 1868. The family built a water-powered sawmill, the first in Grays Harbor County. In 1909, a dam was constructed at the end of Lake Sylvia to provide hydro-electric power and water to the City of Montesano. The Wilder family lived in the generator room for many years and Silas Wilder's wife was the only woman known to operate a power plant in the United States during the 1920s. The powerhouse was dismantled in the early 1930s.
The area around Lake Sylvia State Park is rich with logging lore and history. Huge, old-growth stumps are everywhere in the park. There is a giant wooden ball carved from a single log by a local logging legend. Story has it the logger could stand atop the floating ball and walk it from one end of the lake to the other. Logging ceased in the 1930s and the City of Montesano donated the land around Lake Sylvia to the State Parks Commission for conservation in 1936. Additional lands were added by a trade in 1985.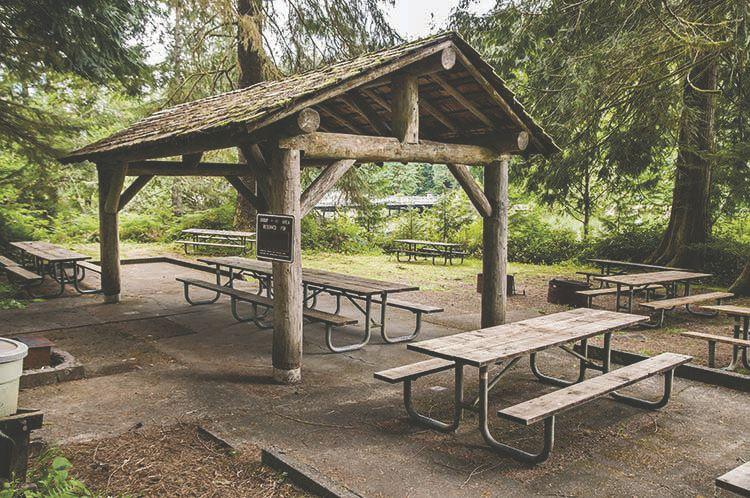 Picnic and Day-Use Facilities 
The park provides one kitchen shelter with electricity, one sheltered picnic table and 75 unsheltered picnic tables. To make a reservation, visit online or call (888) CAMPOUT or (888) 226-7688.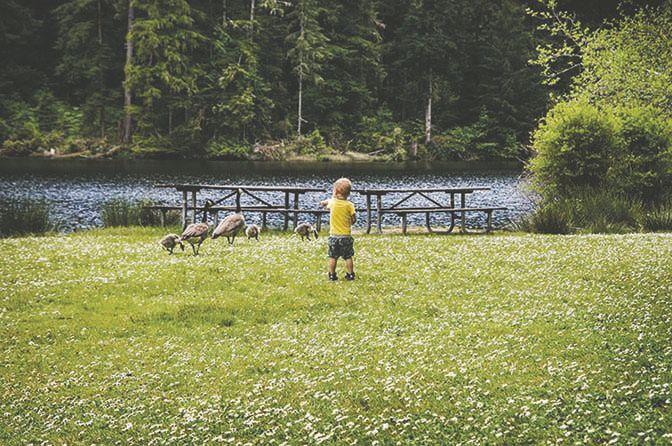 • 0.5 miles of ADA hiking trails
• 5 miles of hiking trails
• Boating (non-motorized)
• The park has an ADA fishing dock and playground equipment.
• A recreational license is required for fishing and shellfish harvesting at Washington state parks. For regulations, fishing season information, or to purchase a recreational license, visit the Washington Department of Fish and Wildlife's website.
Located in Grays Harbor County on Lake Sylvia, the park offers one boat ramp. Electric but not gasoline-powered boat motors are allowed.
Launching a boat at a state park requires one of the following:
• An annual launch permit (Natural Investment Permit); or
• An annual Discover Pass and a daily launch permit; or
• A one-day Discover Pass and a daily launch permit. A daily watercraft launching permit for $7 and a trailer dumping permit for $5 is available at the park. Annual permits also may be purchased at State Parks Headquarters in Olympia, at region offices, online and at parks when staff is available.
Latitude: 47º 0' 3.24" N (47.0009) 
Longitude: 123º 35' 31.21" W (-123.592)
The park has 31 standard campsites, four partial-hookup sites, one dump station, three restrooms (one ADA), and six showers (four ADA). In addition, there are four primitive walk-in sites and two primitive sites for hikers and bicyclers. Most sites will accommodate either a tent or an RV. Maximum site length is 30 feet (limited availability). Individual campsites are reservable from April 1 - Sept. 30.
Check-in time is 2:30 p.m.
There is one group camp available (tents only) for groups of up to 50 people. Parking for five vehicles is included with your group camp rental. Additional vehicles will be charged the extra vehicle fee of $10 per night. The group camp is reservable April 1 to Sept. 30.
Two sit-on-top double kayaks are available for rent from May through September. Rental fees are $10 per hour or $25 for three hours.