At first, they were told it would be two weeks. Then, it was a month.
Next thing they knew — with more than two months of closures, profits gone and savings accounts drained — it was time for businesses to reopen.
On Wednesday, May 27, Thurston County was given the OK by the state Department of Health to enter into phase 2 of Gov. Jay Inslee's four-phased "Safe Start" reopening plan — the first step toward a hopeful turn to a sense of normalcy.
When Kyle Phillips, owner of the White Horse Tavern, heard about the news, he immediately left his house and headed for his bar. It was time to dust off the seats and set up cash registers.
"I think we've all just been chomping at the bit to open," said Phillips, 49.
During the last two months of state-mandated business closures due to the coronavirus crisis, the White Horse Tavern — a decade-old downtown staple located off of Yelm Avenue — has been opened only three days a week, selling to-go food orders in an effort to stay afloat.
On Wednesday, the establishment opened to facilitate guests in-house. The bar was open from 8:30 p.m. to 2 a.m. and, due to phase 2 restrictions, was only able to open its door to 50 percent of its normal capacity.
Phillips said those first two weeks of closure were tough. While he's been able to pay his employees, Phillips said he hasn't paid himself since March when the closures first started.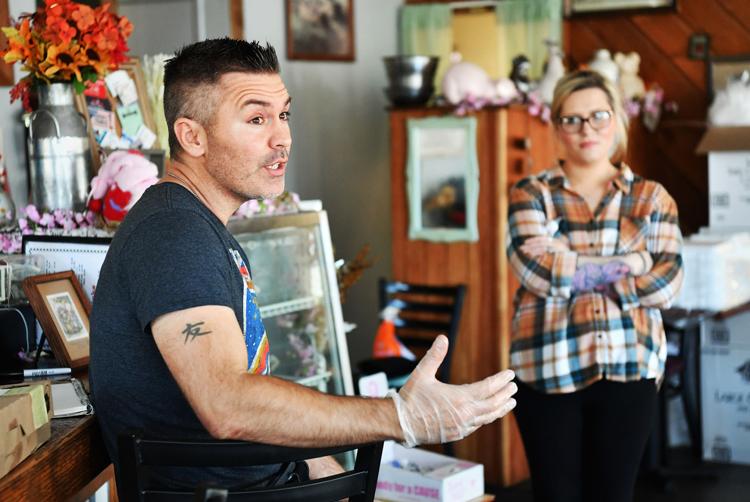 He also estimates he's lost $60,000 over the two-month closure.
"Losing profits for over two months, that dug into my personal savings almost to the point of draining it," he said. "I've actually got to the point where I've had to sell some personal items to stay afloat."
But even as Phillips and the White Horse have hit turbulent times, they plan to keep going.
Since closing due to the coronavirus, the White Horse has missed three dates that were likely to be their most profitable of the year — St. Patrick's Day, Cinco de Mayo and the tavern's 10-year anniversary, which was May 19.
"I sat in here with a CocaCola alone," Phillips said, adding that they plan to celebrate those occasions at a later date.
While the White Horse launches into its reopening, other businesses are still weighing the cost.
Bahman Robinson and Jenny Smith, the husband and wife owners of Ma and Pa's Family Diner just a block from White Horse, said they're not sure if they'll be opening their facility to customers.
The duo has been operating to-go orders from their drive-through window during the crisis and they aren't sure if the potential profits from four tables — their 50 percent occupancy with social distancing — would provide enough incentive. Plus, the business owners also recently closed their second business, Jenny's Barnhouse across the river in McKenna, which was their first venture they opened more than three years ago.
The husband and wife are trying to balance operating their diner six days a week by themselves while homeschooling their three kids.
"Everything we're doing, we're doing ourselves right now for the most part, and it's just been a taxing process," Robinson said. "We'll get through this … The people that are putting in the time and the people that are still trying to do their thing are going to make it through this. A lot of people are going to make it through this — there are a lot of strong businesses in this town."
While revenue has declined, Robinson said in order for them to open up and make a profit they'd have to be able to seat more than 50-percent capacity. Ultimately, phase 2 benefits larger restaurants more than smaller ones, he said.
"Fifty percent capacity, you starting bringing back a bunch of employees, isn't really going to pay the bills. It's just going to be more overhead," he said.
Robinson said they plan on re-evaluating the situation on June 1.
Line Critchfield, executive director of the Yelm Area Chamber of Commerce, said businesses have definitely struggled throughout these closures. But many of the small business owners, she added, have also been resilient in their ability to adapt to the climate of a pandemic.
"I think we're just excited to get people reopened again and excited to do the things in Yelm that we all love to do," she said.
Last weekend, the Yelm Farmers Market reopened for its first day of the season. Critchfield said she was able to sneak in for a bit and take a look at how the market was operating during this time. 
"The farmers market is one of my favorite things in Yelm and it was good to have that little sense of normalcy even if it was a little different," she said.
Phase 2, effective Tuesday, allows several business sectors — including restaurants, bars, barbers, salons, and others — to welcome customers again with limits placed on occupancy and other requirements. Manufacturing, construction, in-store retail, real estate and professional office-based services will also be allowed to reopen with restrictions and precautions.
Details for the phase 3 variance are still being developed, but according to Inslee's office, counties will need to continue to demonstrate health care readiness, prompt testing capacities and availability, low caseloads and contact tracing abilities.
When the county moves into phase 3, groups of up to 50 individuals will be permitted, including sports and recreational activities, residents will be allowed to resume non-essential travel, restaurants and bars will be able to open to less than 75 percent capacity, and other business activities besides night clubs and events with 50 or more people will be able to resume.