The Thurston County Board of Commissioners voted unanimously Tuesday morning, May 26, to apply for a variance in order to move to Phase 2 of Gov. Jay Inslee's "Safe Start" plan for reopening the state's economy. 
The application was expected to be delivered to the state that afternoon with a decision by Secretary of Health John Wiesman shortly thereafter. (Visit yelmonline.com for updates.)
If approved, several business sectors — including restaurants, bars, barbers, salons, retail shops and others — will be allowed to welcome customers again with limits placed on occupancy and other requirements. Manufacturing, construction, real estate and professional office-based services will also be allowed to reopen with restrictions and precautions. 
It would be the most sweeping reduction in restrictions since Inslee's "Stay Home, Stay Healthy" order first went into effect. 
The vote by Thurston County's commissioners comes during a recent dry spell of confirmed cases of COVID-19 in the county and as other counties across the state, including nearby Lewis County, have moved into Phase 2. From May 17-23, Thurston County Public Health and Social Services reported no new cases of the viral disease. On Sunday, May 24, that dry spell was broken as the county reported four new cases. 
During a brief update given shortly before the vote, Public Health Director Schelli Slaughter said both hospitals in the county have reported that they have more than two weeks of personal protection equipment and could meet up to 20 percent surge capacity.
"I'm proud to report that Thurston County does meet all the requirements," Slaughter said. 
Acting Public Health Officer Dr. Diana Yu said it is important moving forward that people continue to social distance up to 6 feet in public, wear masks and wash their hands regularly while practicing good overall hygiene. 
In order to move from Phase 1 to Phase 2, counties must submit a signed letter from the county's public health officer, gain the approval from the county's board of health, provide assurances that they can meet surge and personal protective equipment standards for hospitals, gain approval from the county's legislative body, and submit documentation regarding its ability to follow contact tracing and recent week's COVID testing reports. 
To be eligible, counties must also have no more than 10 cases of COVID-19 per 100,000 people in the county in a 14-day period. 
It was announced by Inslee's office more than a week ago that Thurston County and nine other counties were eligible for phase 2 variance. Many of those 10 counties since then, including Lewis and Spokane counties, have applied for and been approved to move to the second phase.  
Thurston County remained in Phase 1 of the state's four-phased plan to reopen as of May 26. In this phase, residents are restricted to essential travel only and limited to some recreational activities. Only essential businesses, such as grocery stores and curb-side pickup for retailers, are allowed during this time. 
As of Tuesday morning's press deadline, the number of confirmed cases stood at 132 — 122 of which have recovered — and one death.  A total 8,158 Thurston County residents had been tested in the county. 
Here are some additional numbers relating the coronavirus situation statewide and nationally: 
• Washington state had recorded approximately 20,065 cases and 1,070 total deaths, as of information released late Sunday night by the state Department of Health. More than 330,500 tests had been administered to Washingtonians and the percent of positive cases is at about 6.1 percent. Most cases have been recorded around Snohomish, King, Pierce and Yakima counties. 
• Positive cases of COVID-19 nationwide stood at 1,637,456. There have been approximately 97,669 coronavirus-related deaths, the Center for Disease Control and Prevention reported as of Monday, with the counts believed to be above 100,000 at this point. 
More information for businesses that plan to restart can be found at www.coronavirus.wa.gov/what-you-need-know/safe-start.
Check back as this story will be updated.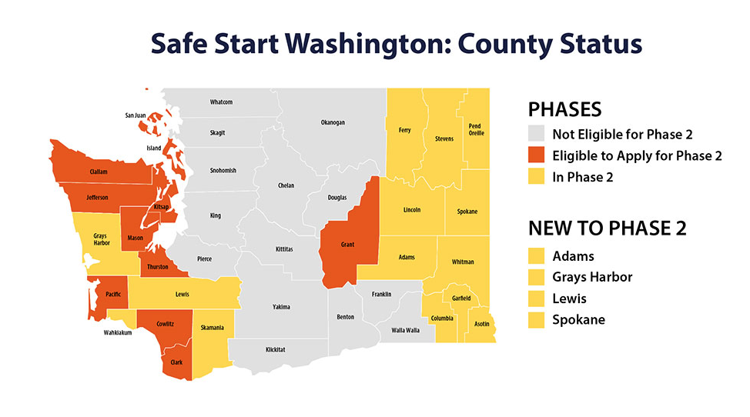 A press release from Thurston County is below: 
OLYMPIA – Today, the Thurston County Board of Commissioners voted unanimously to approve sending the State Secretary of Health the Thurston County application for a variance to move Thurston County to Phase 2 of the 'Safe Start' approach.
The Board of Health approved the recommendation from the Thurston County Health Officer, Dr. Diana Yu, to move the application ahead during a special meeting on Friday, May 22.
If accepted, the variance will allow Thurston County to move to Phase Two of the Covid-19 recovery. Governor Inslee announce the option for Thurston County to apply for the variance on May 19.
"Moving to phase two does not mean we're out of the woods," Dr. Yu asserted. "Social distancing and other measures remain extremely important for the safety of our community. However, we do have the capacity needed for expanded testing and contact tracing, and we are moving forward thoughtfully and with caution. We meet Governor Inslee's requirements to begin Phase two." 
Phase Two of the Safe Start Recovery Plan includes increased openings and/or capacity for retail, restaurants, fitness, salons, pet grooming, and other categories of service. It also allows for gatherings of up to five people outside a family group.
The requirements to apply for the variance include:
Fewer than 10 cases per 100,000 people over two weeks
Recommendation by the County Health Officer
Vote by the County Board of Health and Board of Commissioners
Letter from hospitals confirming bed capacity
Testing data and information
Local capacity for case and contact tracing
Isolation and quarantine capacity
Ability to perform outbreak investigations
Residents of Thurston County should continue to social distance and to wear cloth face coverings when out in public where social distancing is not possible. In addition, residents are asked to 'stay local' and not travel far from home to recreate or do business. It remains important to stay home if you're sick, and to call your health care provider to see if you should be tested for COVID-19. Washing hands, and covering coughs are also important for continued protection.
"It's important to understand that all of these efforts are adaptive," said Dr. Yu. "That means we must remain cautious and continue to assess the situation with every step forward. We know that this virus can surge, if given the opportunity. Each step of our recovery relies on all of us to remain vigilant and thoughtful. If we can do that, and infections remain low, then we can assess our readiness for the third step of recovery in three or four weeks." 
For the most up-to-date information for the Thurston County COVID-19 response and recovery, visit: https://www.thurstoncountywa.gov/phss/Pages/coronavirus.aspx