People weathered hail and rain along with bouts of sunshine early Tuesday afternoon to pick out as much as they could from two truckloads of produce distributed in Yelm Prairie Christian Center's parking lot.
Over the last couple weeks, as the coronavirus crisis has impacted people's ability to work, Yelm Prairie Christian Center has been receiving occasional truckloads of fresh produce thanks to its collaboration with God's Portion in Centralia, which goes back roughly 10 years
"There's no limit and no restrictions on who can get it," Yelm Prairie Pastor Brad Carlson said shortly before the arrival of the trucks. "The attitudes have been great. That's what's been great about this, is everyone's been so appreciative."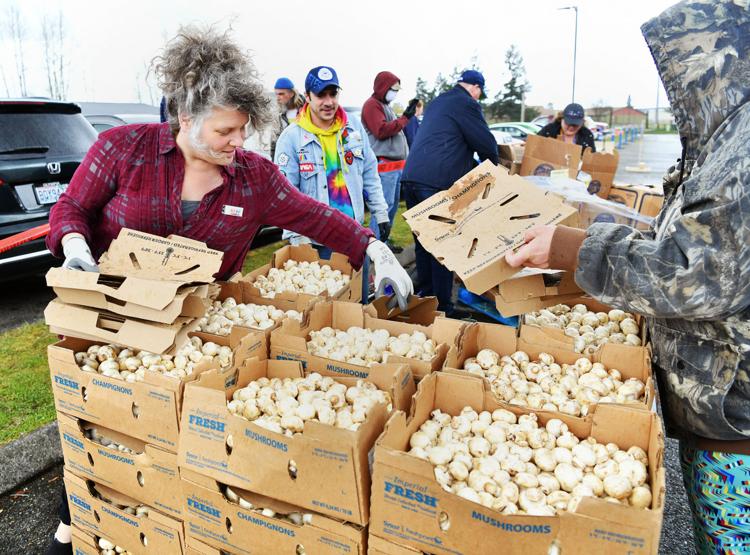 This was the church's fifth truck over the 11 days they've been receiving them. Aboard each truck are 30 or so pallets filled with healthful produce, milk, half-and-half and other perishable items.
About a dozen or so volunteers waited outside for the truck. On Tuesday, it was two trucks — a 53-foot semi and a 20-foot box truck. It was their biggest haul they'd offered thus far.
A couple boxes of Easter egg decorating kits also sat open for people to take while waiting.
"This is the first time we've beat the truck," Carlson said. "When the truck arrives, within two or three hours the parking lot is packed (with people)... We're giving away boxes and boxes of stuff. The thing is it has to go today."
People have been very appreciative of the church for hosting this service, Carlson said. Community members have stopped by to drop off a donation or two to the church, not even picking anything up.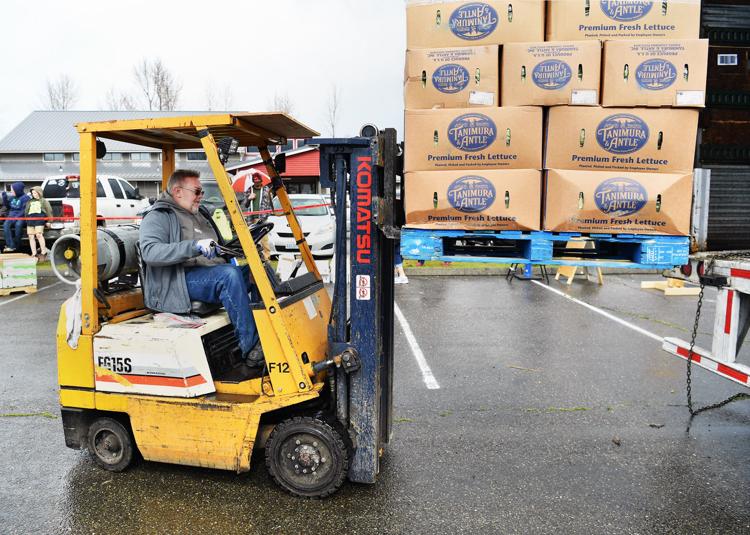 One appreciative person waiting was 28-year-old Vanessa West. Her four kids sat impatiently in her Dodge Ram 1500 pickup truck as she stepped outside for some fresh air.
West, a Yelm resident, said she recently lost her job as a repossession agent, seeing as how all the banks have closed up due to the governor-mandated business closures.
It's been hard enough to keep her young kids busy, as they've been home from school for a couple weeks now.
"I'm very, very thankful," she said. "The kids (are) growing. They need to eat, they're bored and want snacks."
West said she was also stopping by for her mother, who recently moved into her own place.
Then, at around 2:30 p.m., a towering semi truck came driving through the parking lot, half of which sat empty for the pallets and half of which was nearly packed with vehicles.
Volunteers and residents in need quickly drew their attention to the truck as volunteers began unloading pallets of produce, one by one.
Bryan Malone came to the donation area for six families, mostly neighbors and family members. As pallets were loaded off, he took inventory by way of a speech-to-text application on his cellphone, sending out a form of dispatch to those he shopped for.
Like many others, the 39-year-old Yelm resident hasn't been safe from the financial turmoil that's been caused by the coronavirus crisis. He recently lost his job as a cab driver and has been out of work for a while.
Further complicating matters, a number of his family members and people he lives with are considered to be more susceptible to the virus and have not been able to leave the house. For many, he's been the sole source of contact with society.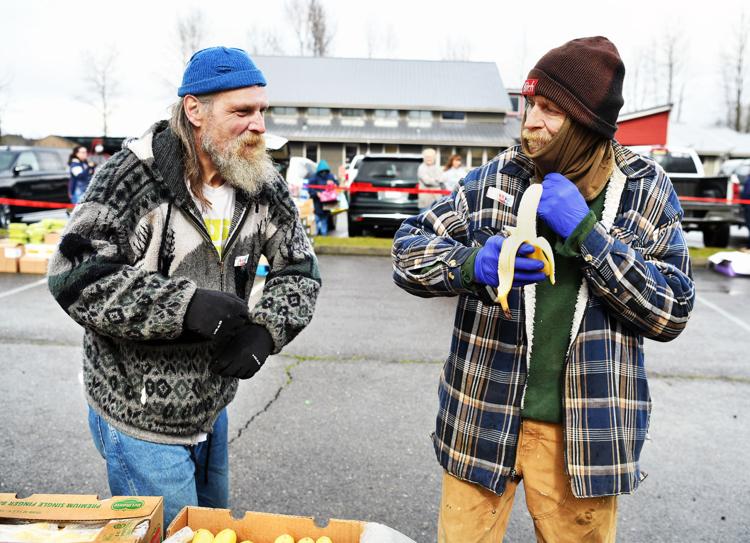 "Six families not being able to leave makes it hard," he said.
Malone said he originally came looking for a few gallons of milk and some bread for each of the families. It's been hard getting the necessities from the stores, he said, especially when people panic-buy groceries and toilet paper.
The first pallet off the 53-foot semi was romaine lettuce. The second was avocado spread. The third was a 3-foot tall pallet of champignon mushrooms.
Then came the bananas — three 7-foot tall pallets of bananas, that is.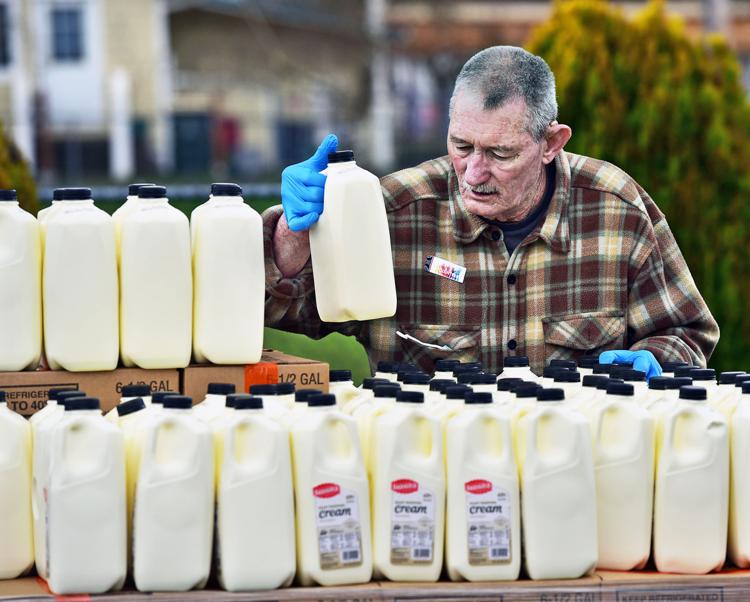 "We are making some banana bread, people," volunteer Sooze Fitsik shouted with a humorous disposition. "We've got some potassium up in here."
Coincidentally enough, the 48-year-old volunteer said just last night she made an excellent batch of banana bread.
"I do love Yelm Prairie Church," she said. "They are a hub in our community."
Fitsik, a Clearwood resident, doesn't attend Yelm Prairie Church, but said she likes to volunteer where she is needed.
She's also helped unload and organize every single truck the church has received, she said.
"What I did on the first truck was drive out to Clearwood and fling lettuce to people's doorsteps," she said, adding that she did ask people first.
Fitsik said she loves serving her community and enjoys seeing people get their needs met, especially in this trying time.
As the final pallets came off the 53-foot truck, the nearby parking lot neared full. Crowds of people began lining up, implementing their best social distancing skills.
"We haven't even announced that we're here yet. When we do that, it'll be a flood," Carlson said.
On Wednesday, Yelm Prairie announced it would receive its final truck from God's Portion in Centralia that day.
Follow Yelm Prairie Christian Center on Facebook to stay up to date on its ministry.