Batten down the hatches and plug your ears, because the oldies-but-goodies are back, and they're about to rev up their old shenanigans.
You know: line dancing, chair yoga, pinochle, bingo, reading, puzzles …
Yep, after three months in coronavirus-caused hibernation, the Yelm Senior Center is open and quickly returning to normal operation as the center's members slowly but surely return.
And for people like center Executive Director Jeanie James, the reunion's long overdue. In fact, to keep herself in the swing of things she has spent nearly every day at the senior center since it closed fielding telephone calls, working in the yard and paying bills.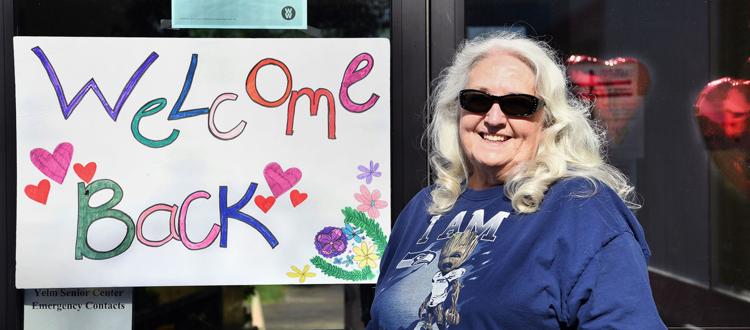 And piecing together puzzles.
"Trust me, I did a ton of them while I was here," she said with a laugh.
James, 70, who isn't afraid to speak her mind, believes the senior center should never have closed.
"There are so many seniors that rely on the senior center as their only opportunities to socialize, and that's been denied them," she said. "And for the volunteers their opportunity to help has been taken away from them."
And why?
"Because we have a king on the throne in Olympia," she said, referring to Gov. Jay Inslee, who on March 16 ordered all restaurants, bars and entertainment and recreational facilities to close for two weeks and limited large gatherings in other venues. "I don't believe the virus is fake, but I believe the reaction to it has been overblown."
For EJ Curry, 69, chair of the center's board of directors and newly appointed to fill a vacant seat on the Yelm City Council, the center's reopening is cause for celebration.
"I feel great about it," she said by phone last week. "Our seniors have been without socialization for more than two months. I've really missed the people coming in and doing their daily activities. But I've mostly worried a lot about them being home alone."
And for those senior center members fretting over the coronavirus and how it might impact their health should they gather with others, Curry offered empathy and practical reassurance.
"If it will help people feel safe, I urge them to wear masks," Curry said. "And because we have the space and plenty of tables, I don't think social distancing will be a problem."
It certainly wasn't last week. Only a few senior center regulars had showed up on Friday morning as James worked social media venues to notify people that the center had reopened.
In fact, senior center volunteer bus driver John Cook Jr. had nearly an empty bus as he pulled into the center's parking lot that morning. The 57-year-old retired Yelm resident is anxious to see the center moving full steam ahead.
"I really didn't like that the senior center was closed," he said. "I really enjoy driving the bus around town, talking to people, listening to their stories and what's happening in their lives.
"I feel like I have a place in my heart for them, and I try to make them feel as comfortable as possible," he added.
And responding to a story James heard about a female member's son forbidding her to visit the senior center for fear of the coronavirus, Cook had this to say: "My dad's 82, and if he wanted to come to the senior center I wouldn't stop him. If people are capable of making their own decisions they have every right to be here if they wish."
Jackie Reid, who has been a senior center member for about two years, visits the facility almost every day it's open. She was there on Friday, too, with just a few others.
"I just enjoy it all here," she said. "The people are great, and we help each other. If they need me to do something I always say yes."
Rural Rainier resident Craig McCauley has volunteered at the center for about three years. The 72-year-old sets tables, sorts produce and helps out wherever else he's needed. His three-month hiatus from volunteer duty didn't sound like much fun — particularly because he was homebound to avoid contracting the virus.
"I had to pull weeds forever," he said with a laugh, referring to his one-acre property. "I can never keep up with them."
McCauley, who almost died in a 2012 motorcycle accident in Reno, Nevada, credits the senior center with helping him slowly but surely recover. The accident adversely affected his hearing, speech and cognitive understanding.
"When I first came to the senior center I could barely talk — just a few words," he said. "But after I came here and had people to talk to I started getting better. The senior center has been really good for me."
Editor's note: The Yelm Senior Center expected to resume lunch meal service the week of June 22, though no exact date had been set. The center, located at 16530 103rd Ave. S.E., is open from Tuesday through Friday from 9 a.m. to 3 p.m. Call 360-458-7733 for more information.