Thurston County Public Health and Social Services is investigating four new outbreaks at congregate care facilities and on Wednesday reported 21 new cases of COVID-19.
New cases reported include two individuals between the ages of 10 and 19, four in their 20s, three in their 30s, five in their 40s, four in their 50s, two in their 70s and one individual in their 80s.
The four new outbreaks, reported in Public Health's Tuesday update, were reported in an adult family home, two assisted living facilities and one nursing facility, according to Magen Johnson, the county's COVID-19 public information specialist. The county is currently investigating five outbreaks at congregate care facilities, with the other one being an adult family home.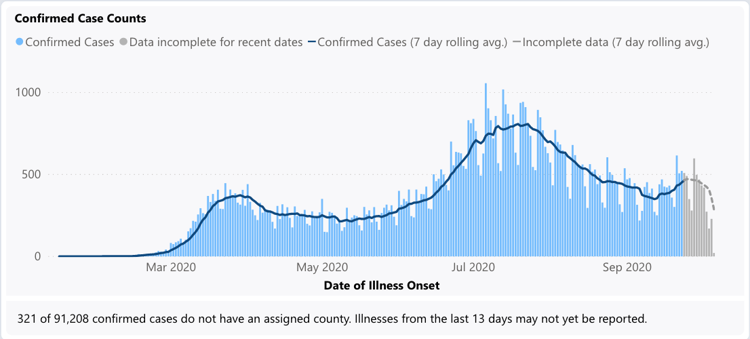 The locations of the congregate care facilities are not being released, Johnson said, and the county is still working to determine how many new cases have been tied to them. At least 20 cases and one death have been linked to the one adult family home.
Fourteen COVID-19 outbreaks have occurred in Thurston County congregate care facilities since March, with most having been resolved.
Transmission rates for Thurston County passed over into the "high" risk range, which is reported in 76 or more cases per 100,000 over 14 days by state standards. After last week's spike, that rate model experienced a dramatic increase.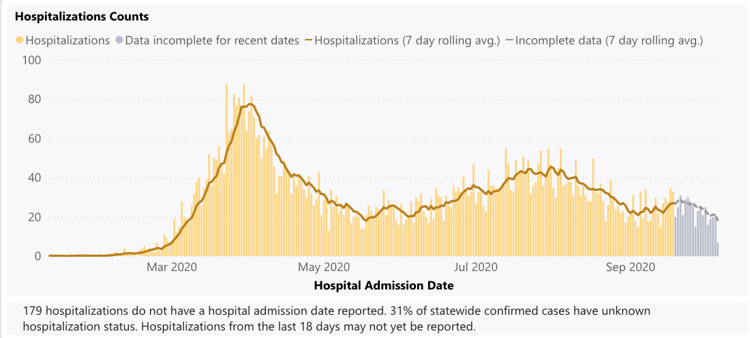 The county's rate stands at 77.68 cases per 100,000 over the last 14 days. 
In a Wednesday letter to the community, Health Officer Dr. Dimyana Abdelmalek wrote that the spike in cases in the county continues to be due to travel and intimate gatherings.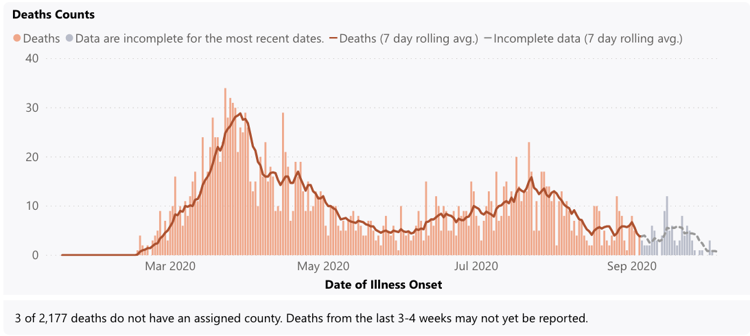 "There were a number of people who experienced symptoms for three or more days, and in some cases up to a week, before being tested," she wrote. "I believe some individuals delayed testing because of poor air quality from the fires. Many of the earlier cases had traveled both over Labor Day weekend and in the following week. Gatherings of friends and family was another way COVID-19 spread. There were also people who got COVID-19 while they were working. Once one household member was sick, very often other household members would become sick as well"
She urged residents to continue social distancing measures and consistent mask wearing and for people to stay home when they're not feeling well.
As of Tuesday, 46,559 Thurston County residents had been tested for the virus.
Here are some additional numbers related to the coronavirus situation, both regionally and nationally, that were reported as of Wednesday:
• The Tacoma-Pierce County Health Department reported 68 new cases, bringing the total since the start of the pandemic to 8,289. One new death was reported, bringing the total number of COVID-19 related deaths to 178. The average number of cases per day over the last two weeks stands at about 52.5.
• The Washington State Department of Health on Tuesday night reported an additional 545 cases of COVID-19, bringing the total reported to 91,208. Statewide hospitalizations stand at 7,703 and the state reported 12 new deaths to total 2,177. The number of tests conducted statewide stands at 1,978,477. The percentage of deaths over confirmed cases stands at 2.4 percent.
• The total number of deaths in the United States stands at 210,232, according to the Centers for Disease Control and Prevention. A total 7,475,262 cases have been reported by the agency as well, and there have been 307,191 new cases in the past seven days.
---
This story has been updated with corrected information on the "high" risk transmission rates.