Cases of COVID-19 topped 5,000 Monday in Thurston County, according to tallies from Public Health and Social Services. 
Another 51 cases were announced on Tuesday. 
The milestone came as last week's caseload saw a slight drop but remained relatively high. The week of Dec. 28-Jan. 4, Public Health reported a total 307 cases of the virus. 
Dr. Dimyana Abdelmalek, Thurston County's health officer, on Tuesday morning also gave a post-holiday update on reopening schools.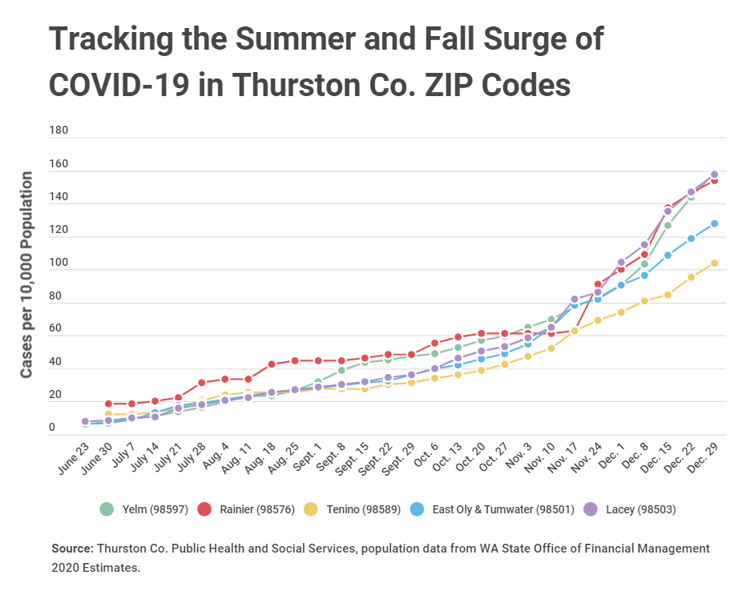 She said that if county transmission rates remain in the moderate range (between 50 and 350 cases per 100,000 over 14 days) for most days in the three weeks following New Years Day, she will then recommend a slow transition to bring elementary and middle school students back into in-person learning. 
Testing, hospital and public health capacity must also remain sufficient during the time, Abdelmalek said. 
This will be the second time since the start of the fall semester that the health department attempts a return to in-person instruction. 
"The COVID-19 pandemic in our county is dynamic," Abdelmalek said in a Tuesday morning letter to the public. "If the situation changes, my guidance may also change to reflect the best available science and data. I commend you for your efforts to mitigate the spread of COVID-19 and look forward to partnering with you to keep those who work and learn in our schools safe and healthy." 
According to new guidance released last month from the state Department of Health, low transmission is reported in any county with fewer than 50 cases per 100,000 people over the last two weeks, while moderate transmission is for counties between 50 and 350 cases per the same metric and high is any county reporting more than 350 cases. 
Thurston County currently falls in the moderate range, and as of Tuesday morning's press deadline has reported 237.2 cases per 100,000 people over the last 14 days. About 6.7 percent of tests over the last seven days have come back as positive
The county reported four deaths between Dec. 29 and Tuesday morning's press deadline. On Monday, the department reported 18 people had been admitted into the hospital over the last seven days due to the virus, showing that hospitalizations also remain steady. 
This comes as COVID-19 vaccines have arrived over the last couple weeks in not only Washington state, but the immediate Yelm area. Before Christmas, Yelm Family Medicine began administering Moderna's vaccine. Sea Mar Medical Clinic told the Nisqually Valley News as of two weeks ago that staff had not yet received shipments of the vaccine. 
According to the state Department of Health, as of Dec. 29, about 69,349 Washingtonians have received their first dose of the vaccine, with first orders of the second dose expected to arrive last weekend. 
Vaccination efforts, which are still early on, are still focused on high-risk workers in health care settings, high-risk first responders, and residents at long term care facilities. 
About 56,236 Pfizer vaccines have been administered and 13,106 Moderna vaccines. 
The state, for its third week of allocation, expects 57,525 Pfizer doses and 44,500 Moderna doses. About 43,375 of those doses will be administered at 87 sites in 26 counties, while the majority 58,650 will go to support long term facilities, some tribes and urban Indian health programs. 
Here are some additional numbers related to the coronavirus situation, both regionally and nationally, that were reported as of Tuesday morning press deadline:
• Tacoma-Pierce County Health Department reported 164 new cases and nine new deaths on Monday. The death toll from the virus stands at 307 Pierce County residents. According to the Department of Health, Pierce County is reporting a "high" transmission rate of 407.1 cases per 100,000 people over the last 14 days; that rate is on the decline. The total number of cases reported in the county so far stands at 26,515.
• Since the start of the pandemic, the state Department of Health has reported 3,482 deaths, 246,376 confirmed cases, and 15,160 hospitalizations due to COVID-19. According to DoH, a number of duplicates due to negative test results is expected in the most up-to-date data. 
• The total number of deaths accumulated in the United States due to COVID-19 stands at 350,664, according to the Centers for Disease Control and Prevention. 
A total 20,558,489 cases have been confirmed thus far, with 1,502,620 of those reported in the last seven days.