The food bank at Yelm Community Services has been under significant pressure since temporary closures were announced last week to limit the spread of COVID-19.
Most of the usual offerings at Yelm Community Services have been closed off to the public or are being deferred to other local resource providers. The food bank, which is now open only on Thursdays from 1 to 3:45 p.m., has seen a rise in demand. 
Food bank Director Cindy Cecil said they plan on keeping their location open for as long as they can, until they're ordered either to close by the state or they run out of food.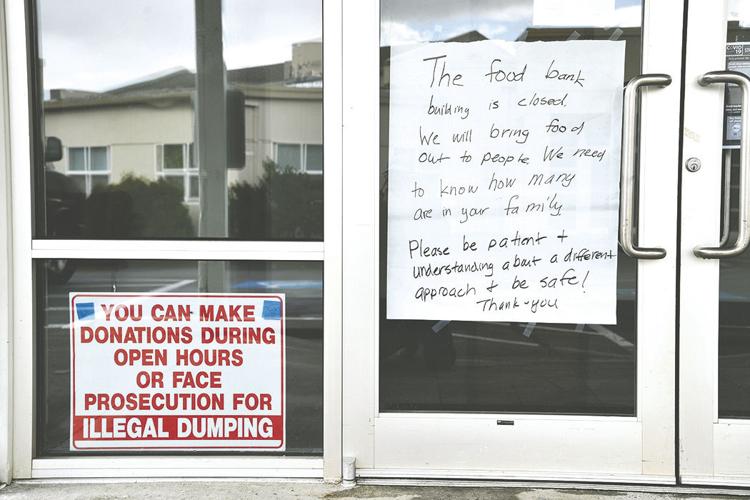 Cecil said while their overall stock is looking decent, especially when compared to other struggling food banks in the region, they're still low on canned proteins such as peanut butter. 
"We typically get what doesn't sell, etcetera," Cecil said. "We're getting about half the amount of produce we normally get and maybe a third of the bread we normally get … We're just going to be handing out food until we don't have any left." 
Cecil said the good news is that the food bank will receive triple the amount of its regularly-scheduled commodities over the next three months through the Community Action Council of Lewis, Mason and Thurston Counties. That'll mean a steady supply of the basics for many who rely on the food bank.
In order to limit physical contact, and in an effort to keep their facility clean, the food bank rolled out a drive-through only service along with its limited hours. Food bank volunteers now wheel up carts to individual vehicles and select the goods they need for them. 
Because of the increase in cart usage, Cecil said they're primary need at the moment is 80 to 100 shopping carts. Of the limited number the food bank currently uses, many are falling apart. 
"I'm pretty desperate for that," she said, adding that the situation was already dire before the coronavirus outbreak. 
Over the last couple weeks, as the spread of COVID-19 has escalated throughout the country, state-mandated closures have ultimately hurt food banks. Many of them have seen an influx in demand as people are laid off and children stay out of school. 
Cecil said her food bank has experienced a large shift in the way it operates and how it serves the community. It also hasn't helped that the food bank's primary source of revenue, the nearby licensing center, has taken a hit. It currently only conducts business with the public by phone. 
"We have this situation where revenue is going down, but the need is going up," Cecil said. "We're just trying to survive this. Nothing like this has ever happened in any of our lifetimes … We're working about three times as hard as we were before" 
The retired and elderly are also the backbone of the food bank industry, Cecil says. Because of directions by the state and federal health authorities warning the elderly to implement social distancing measures, much of that population is staying home. 
"It's hard because people are being told to stay at home … People just want to stay safe, but at the same time we're trying to deliver our critical services to those in the community that need it," she said.