Last year, the City of Yelm's splash pad and new playground opened to widespread approval from parents and children alike.
From then until the fall months, kids could be seen every day playing near the 25-foot-tall eagle tower and its surrounding spray features. 
But due to the ongoing coronavirus pandemic, which has seen a resurgence in spread during recent weeks, the splash pad hasn't yet opened this summer and likely won't. 
During recent meetings, council members Terry Kaminski and Joe DePinto have advocated for having the city find some way to open and operate the splash pad in a safe manner, but Mayor JW Foster and City Administrator Michael Grayum have repeatedly noted that splash pads cannot operate until Phase 4 of Gov. Jay Inslee's  "Safe Start" plan. 
"I really realize that it's pretty impractical," Kaminski said. "If there was a way that we could really make it work, I would support that."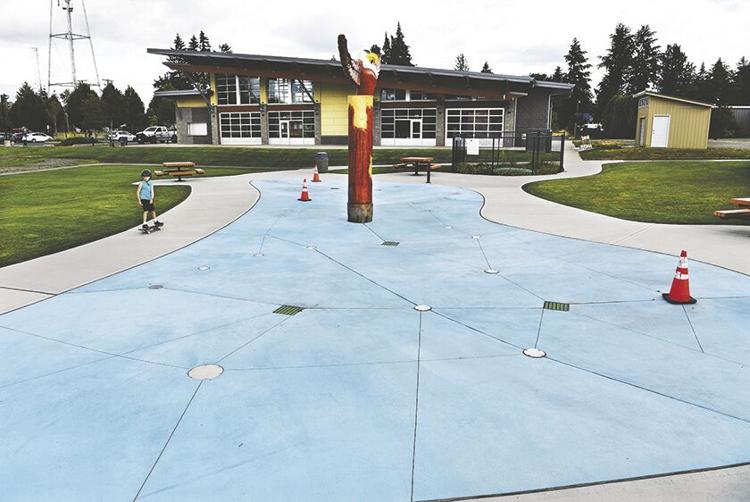 According to Foster, requirements to operate the splash pad would generally fall under Phase 4, which would allow for all businesses and activities to resume with continued social distancing measures. 
Thurston County — along with 17 of Washington's 39 counties — is currently in Phase 3 of the plan. There are currently no guidelines set for counties to enter into Phase 4. 
During a July 7 council study session, Public Works Director Cody Colt said it was possible for the city to open the splash pad under Phase 3, though there would need to be strict adherence to the 6-foot rule and a 50-person limit, which would likely require a staffed person to be there during hours of operation. 
This would be only probable if the City of Yelm could get an OK from the state Department of Health. 
Since Colt's comments on July 7, Inslee revised Phase 3 requirements to limit public gatherings to only 10 people due to increased spread of the virus. 
Kaminski and DePinto previously advocated for either hiring a part-time worker to enforce social distancing measures or having a volunteer oversee the splash pad.
"That's asking an awful lot of a city employee to go out there and play COVID police," council member Tad Stillwell said during the July 7 study session. "I would love to see it open." 
DePinto chimed in after Stillwell's comments, saying that he wouldn't mind volunteering for that. 
Speaking later with The Nisqually Valley News, Foster said that while the Department of Health gave them a path to opening the water feature during Phase 3, it was ultimately unrealistic to achieve — especially with the restriction on gatherings of up to 10 people. 
"Not to mention the expense and potential liability to the city. You can't get kids to stay 6 feet apart on a splash pad," he said. "We're going to help our community stay healthy by following those regulations by the state." 
Foster said other splash pads around the area, including Olympia's, have been closed during the pandemic.
One citizen recently messaged Foster asking what they could do since her kids loved water so much. He gave them a list of natural waterways to go to including the McKenna access park, Lake Lawrence and the Deschutes River in Tumwater. 
"They're not in Yelm, but they're available to us," he said. 
Foster said the important thing to take into account is that there will be a day when the splash pad reopens to the public — even if it's not this summer.