A Yelm clinic is adjusting its services and taking additional precautionary measures in an effort to keep its staff and patients safe as the COVID-19 pandemic spreads. 
This month, Yelm Family Medicine, a 40-year-old clinic that serves the surrounding area, began implementing telemedicine services and operating a drive-through clinic for patients who have possibly contracted COVID-19, the disease caused by novel coronavirus.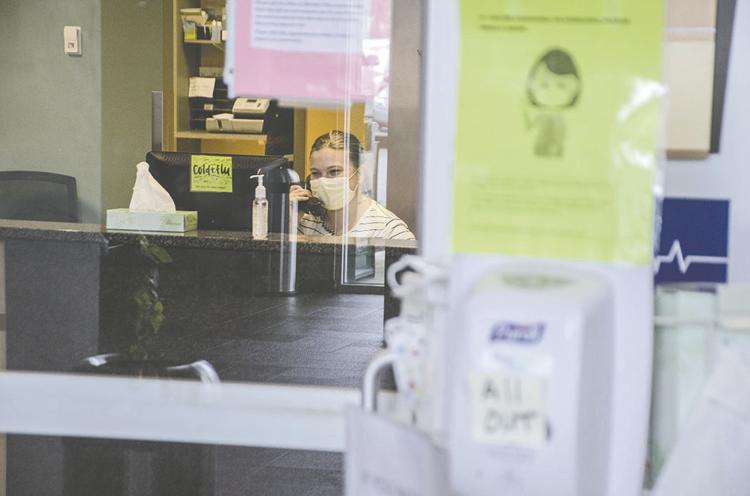 The goal of these new initiatives, which also include additional rigorous sanitization of the facility and devices, is to continue to serve the clinic's patients during the outbreak and offer medical services to the community at large. 
The clinic is just one of many throughout the region working on the frontlines of this virus, which has forced mass closures of businesses and schools around the United States. 
"Our goal is to stay open to provide for the healthcare needs of our patients," said Dr. Chelsea Unruh. "If you have diabetes during a pandemic, you still have to treat it. It's not going away."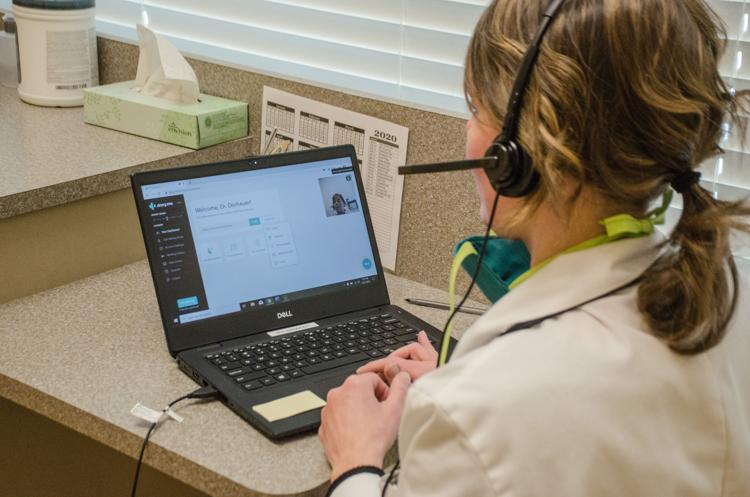 The clinic's lobby on Friday afternoon was largely vacant, save for a patient or two and chatter from the receptionist's desk. 
Brenda Longmire, office manager, said the clinic has seen a sharp decrease of in-person visits. The clinic is seeing about a quarter of the number of patients they normally see. 
"People are afraid to come in, and rightly so," said Longmire, who has been with the clinic for nearly its entire existence, adding that she's never seen a single virus have as substantial an impact on their regular operations.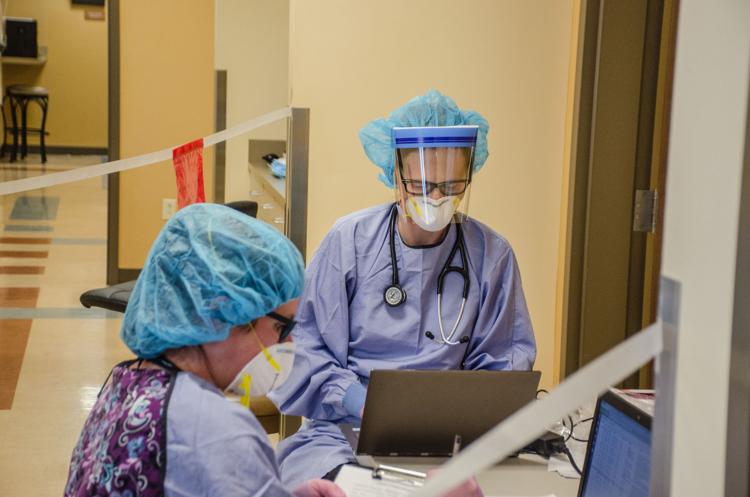 As of Monday morning, Yelm Family Medicine has not reported any positive cases of COVID-19 from its facility, Unruh said. 
That could change though, as the facility continues to see patients through a drive-in clinic behind the main entrance to the Yelm Medical Plaza.  
The 27-person clinic has been performing drive-through testing on and off for about two weeks, clinical manager Stephanie Tucksen said. 
They've been seeing anywhere from eight to 20 people a day through this service. 
Yelm Family Medicine generally begins screening for COVID-19 through a telephone visit. If the symptoms for novel coronavirus check out, a scheduled drive-through visit behind the building will be arranged.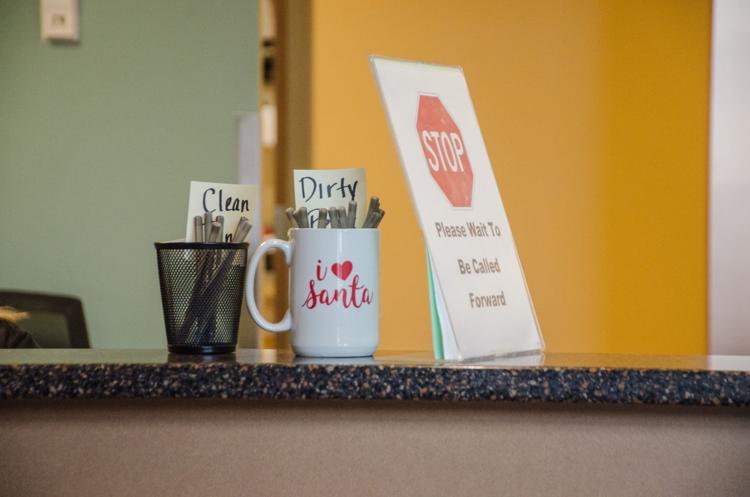 Staff are looking for symptoms that include, but aren't limited to, a headache, body aches, a cough and a fever of around 100 degrees, Tucksen said.  
During these visits, physicians and nursing staff dress up in biohazard suits and masks before heading out in the parking lot to visit the patient. If symptoms check out, staff will then perform a swab test and ship it out. 
Tucksen said test tubes have been in high demand due to the greater efforts regionally to ramp up testing for COVID-19. 
Other items that have been of high demand are face masks and hand sanitizer, Longmire said. Due to these shortages, the clinic has been reaching out to business partners locally to assist in those needs. 
Sandstone Distillery and Tim's Pharmacy have recently either sold or donated hand sanitizer to the clinic, Longmire said. Yelm Dental, Tim's Pharmacy, Olympia Orthopaedic and other businesses have also reached out to donate face masks. 
While Yelm Family Medicine's lobby sits empty, doctors at Yelm Family Medicine have been busy seeing patients by computer through telemedicine services. 
One video conferencing method the clinic has been using is Doxy.me, a free telemedicine resource that can securely connect patients to their doctors and medical information. 
This time last month, Yelm Family Medicine hadn't dabbled at all with telemedicine. Now, it's one of their most utilized resources. Doctors regularly use the service, performing four to five calls every hour for regular checkups. 
"The afternoons are really filling up with telemed visits," Unruh said. 
A new analysis published by the University of Washington's Instituted for Health Metrics and Evaluation shows the situation statewide with COVID-19 will more than likely get worse before it gets better, especially for hospitals. 
Around late April, the number of deaths per day is expected to peak. As of Monday, March 30, the analysis showed that from April 19 through May 2, about 28 people will die each day statewide due to COVID-19. 
Coronavirus-related deaths have fluctuated substantially over the last weeks, from seven to 22 deaths per day. 
Hospitalizations could also peak around mid-April, the analysis shows, with severe shortages of intensive care unit beds expected. 
Despite this harsh outlook, Unruh says small clinics, such as Yelm Family Medicine, shouldn't see a huge influx of patients. 
"Most patients are taking the governor's order of 'stay home, stay safe' seriously. And that's a good thing. We have had an increase in respiratory visits in the afternoon time slots," she said. 
The best thing people can do is to stay healthy and out of emergency rooms, Unruh said, so that hospitals can utilize their already-depleted resources for more dire matters. 
Unruh said Yelm Family Medicine hasn't yet received any additional supplies of personal protective equipment (PPE) from the government, mostly due to a large order staff placed shortly before the outbreak disrupted markets and supply chains. 
Right now, while nursing staff and physicians may be worried about the potential spread of coronavirus in their community and to their loved ones, the clinic seems more or less prepared to take the long road through this epidemic. 
"Like many individuals in Yelm, we have taken it upon ourselves to make sure we're protected. And with the preparations we've done, we're hoping not to have to use those state, county or federal resources so that those can be used in the hospitals," Unruh said. 
Yelm Family Medicine is located at 201 Tahoma Blvd. SE in suite 102. Staff can be reached at 360-458-6612.