The Yelm Area Chamber of Commerce and the City of Yelm hosted a digital town hall on Wednesday, March 18, to hear from local businesses about the rising concerns amid mandatory business and school closures due to the spread of COVID-19.
Many of the 46 business owners and community members that logged on asked a variety of questions and shared useful community resources, but one question seemed to be resoundingly at the forefront of the small community's mind — how can we help each other?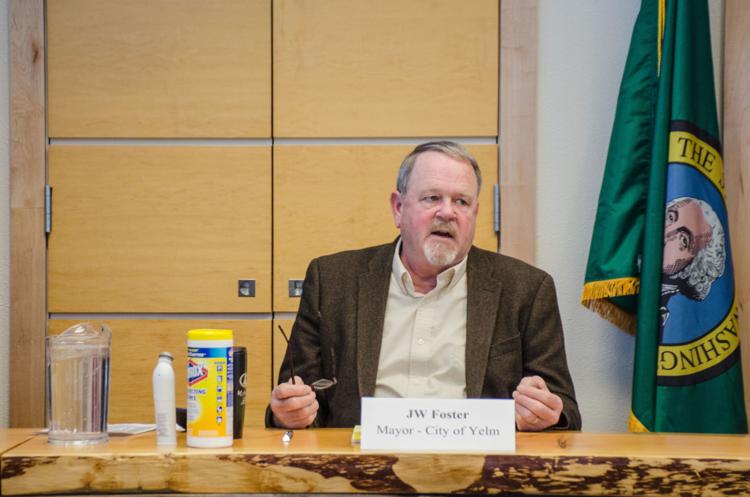 "This kind of warms my heart to see how many people are involved here today and knowing that we have a strong bond, and it's what's going to get us through this," Chamber Board President Angie Evans said to the group.
Over the last week, as the spread of COVID-19 has worsened in the region, Gov. Jay Inslee has taken executive action to close schools for six weeks and restaurants, bars and other businesses for two weeks.
These closures have left both families and local businesses in a financial crunch. Business owners told the Nisqually Valley News last week that they and their employees were going to suffer if closures extended beyond two weeks.
In preparation for this online meeting — where about six people from the city and chamber leadership gathered in a small room in city hall — Yelm Mayor JW Foster said he went knocking on the doors of businesses the day before to see how they were doing.
Of the 30 or so businesses he spoke with, Foster said there were differing reactions on the coronavirus closures. Some of them were overwhelmed, others underwhelmed and some were just concerned.
The purpose of the meeting, Foster said, was to check in on every business and make sure everyone had a chance to ask questions and get information.
Foster said while the government-mandated closures are well-intentioned and should help "slow the curve" of the number of individuals that get infected, there's no doubt that many community members will struggle.
"How does this affect Yelm? Well, businesses are going to suffer losses. Employees are going to lose wages. Those families are going to suffer — they're going to suffer economically and they're going to suffer in stress," Foster said. "Students are going to fall behind, and it's going to take a while. We don't know if the schools will reopen this year. It's not our decision … But we know the students are going to suffer in their ability to learn and it's going to set us back."
Despite these things, Foster said the community can focus on staying healthy and supporting local businesses.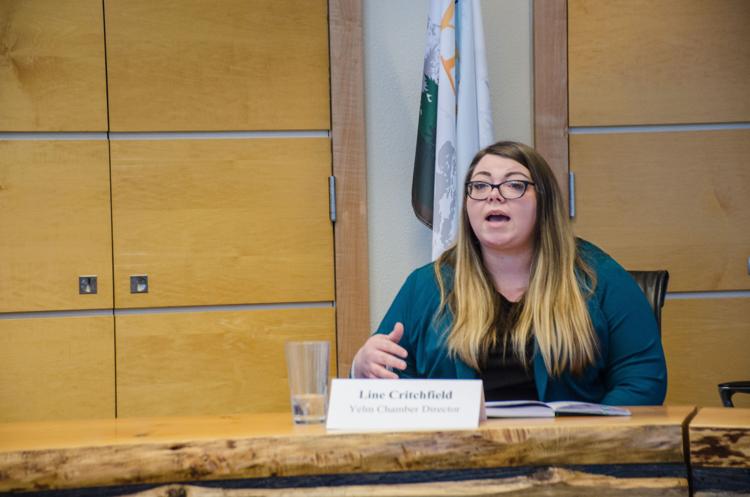 In a subsequent letter to the public, Foster said that there have been no confirmed cases of COVID-19 in the "immediate area."
Yelm Chamber Executive Director Line Critchfield said there are eight things the community can do to support businesses that are hurting during the coronavirus closures, including buying online, grabbing takeout, sharing your favorites on social media, using credit or debit cards, practicing social distancing, using patience and being ready to support businesses even more once mandated closures are lifted.
"I've got to emphasize patience," Evans added. "We're all in this together. We're going to survive and get through this no matter what we're faced with."
The chamber has also created a Facebook page called "Yelm To Go" that will connect users with their favorite restaurants that are still operating on curbside takeout or to-go orders.
The city has also offered a link to state and federal resources on the homepage of its website, www.ci.yelm.wa.us. More information on filing for unemployment and other state benefits can be found at the Employment Security Department's website, www.esd.wa.gov.
Yelm is also currently keeping its public parks open.
Foster was asked why he hasn't yet declared a state of emergency. Since the escalation of the outbreak over the last few weeks, local governments, such as Thurston County and the City of Tenino, have declared states of emergency to better address concerns related to COVID-19.
The mayor said, at the moment, it wouldn't allow them to tap into any additional state or federal funds to help local individuals, businesses or organizations.
Yelm isn't alone in that, though. In a later interview with the Nisqually Valley News, Rainier Administrator Charmayne Garrison said they also hadn't established a state of emergency, but opted to add that they would consider it if assistance relied on that measure.
Foster also said while the city will continue to send out commercial and residential utility bills and first-quarter B&O taxes, the city will not shut off water for nonpayment. The city is also waiving late-payment charges and interest that accrues, although regular payments will continue to be due.
The city council is expected to vote on those measures at the next meeting, Foster said.
While there are current efforts by Congress and the Washington state Legislature to help provide financial relief, Foster said they'll continue to keep a close eye on the situation and stay in touch with the voices in Washington D.C., such as Congressman Denny Heck, D-Wash.
Foster said the city and chamber will likely gather for another digital town hall later as more information becomes available.
"Folks, this is not a hoax," he said. "This is not some diabolical plan to overthrow our government. This is a real thing."