What's the hardest thing about repairing motorcycles?
"When you do what you love, nothing is hard. I love everything related to bikes, so I don't find any of it difficult. Anything with a motor and wheels is fun, and we'll work on them."
That unequivocal statement comes courtesy of longtime Yelm resident Chris Sponberg, who with his partner A.J. Anderson have just opened Power House Motorsports in Yelm.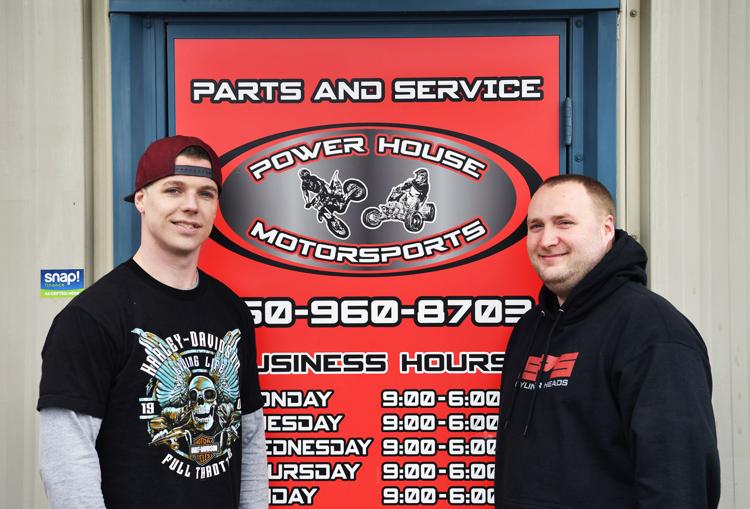 The business' bread and butter is repairing motorcycles — from itty bitty 50 cc models to honkin' 1,200 cc Harley Davidsons — but it will also offer parts, riding apparel, race gear, safety equipment and a good dose of motorcycle camaraderie. The partners expect to mount and balance a lot of tires, too.
Sponberg, 32, who has been racing all kinds of motorized bikes since he was about 3 years old, is the unabashed cheerleader for the new enterprise — which has so far accepted repair jobs from about 10 customers in the few weeks the company's been revving up.
The business is so new, in fact, that on Friday, March 6, sign company workmen arrived to install the Power House Motorsports sign that now adorns the outside of their warehouse-type building on Creek Street.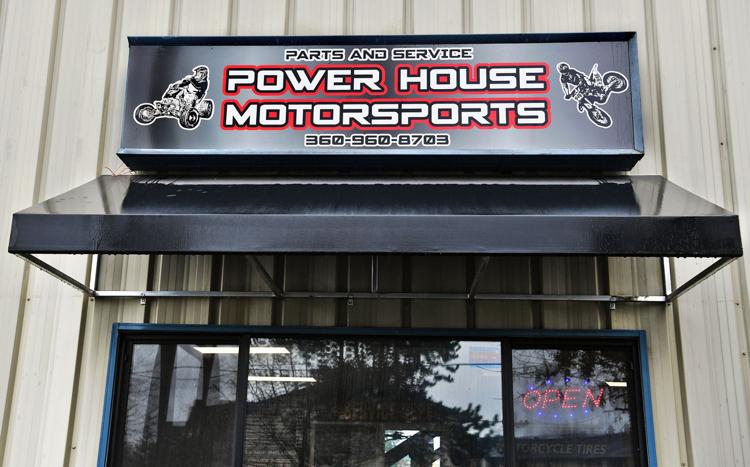 For Sponberg — who has lived in Yelm since 1999 — the sign in a sense marks a new era in the motorcycle enthusiast's life.
"I've always had this dream to have a dirt bike shop," he said. "I've always thought Yelm needed a shop like this, and when I talked about it my friends were all saying, 'Dude, you can do this!' Everyone has welcomed us with open arms."
Sponberg's partner, Anderson, 31 — who lives in Kent and intends to drive the 40 miles or so to Yelm every day to work — is the new venture's lead mechanic. You might call him the Houdini of motorcycle engines.
"I enjoy breaking down something that's supposed to be really complicated and finding that it's actually really simple," he explained. "It's a puzzle, and I like puzzles."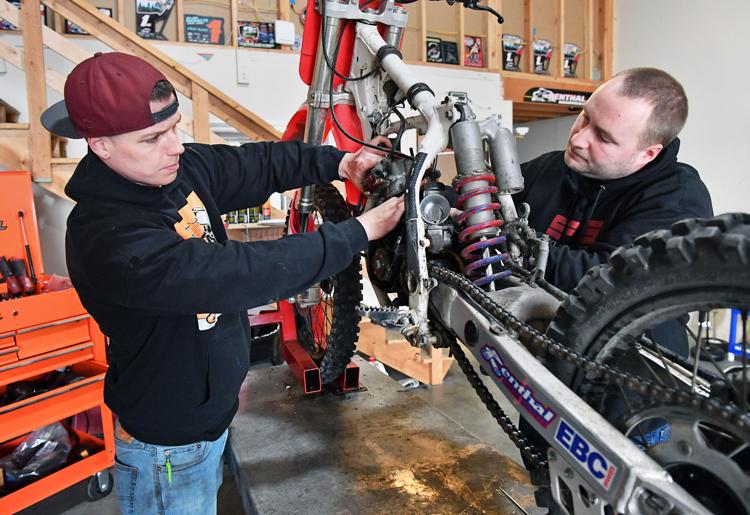 And though Sponberg leaves much of the engine maintenance to Anderson, he digs the challenges, too.
"It's satisfying having to use your brain and actually think," he said. "Figuring out what's wrong with the bike, fixing it and making sure it runs as intended is rewarding."
Though they now live about an hour away from each other, it's not surprising the longtime friends put their heads together and ended up forming a business together.
Both born in Tacoma, Sponberg and Anderson met as little tykes through their parents who knew each other, and have been in touch ever since. Their almost 30-year friendship is evident even in the way they describe their business.
Asked to state what they enjoy most about Power House Motorsports, they're answers almost rhymed.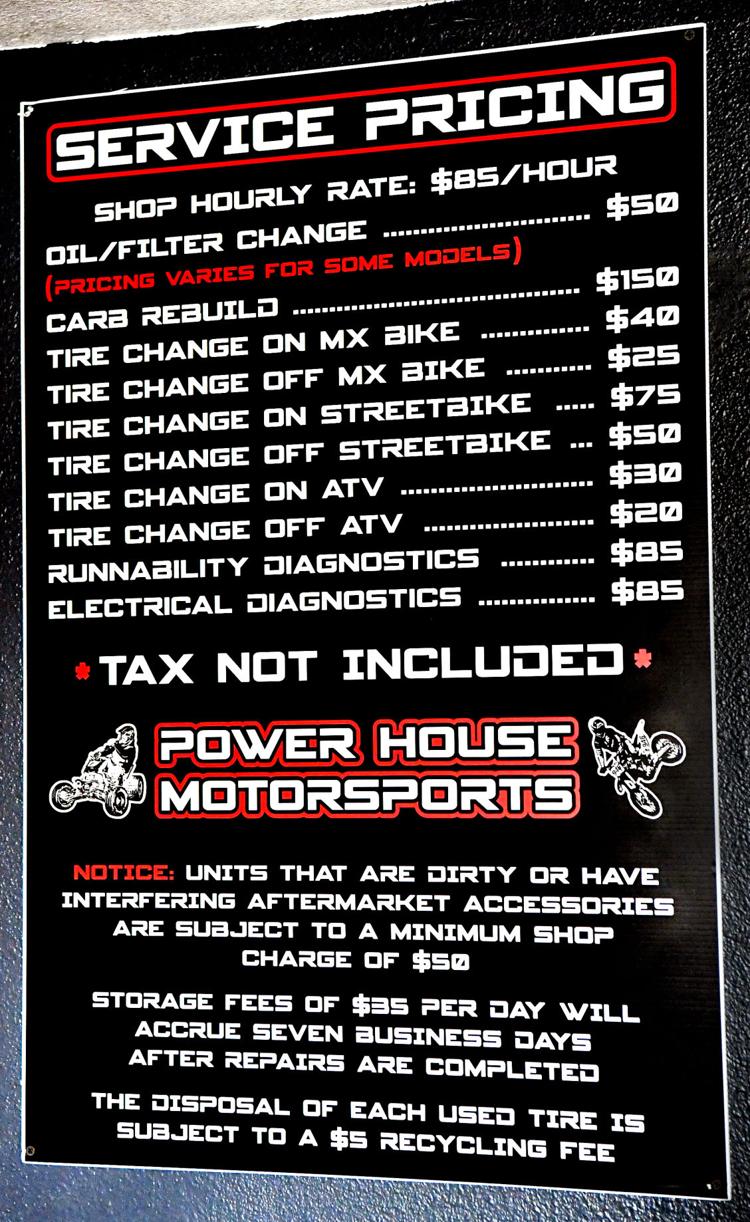 "I enjoy seeing customers leave with smiles on their faces," Anderson said.
"Dude, that's exactly what I said before you got here today," Sponberg replied laughing. "Exactly the same."
At that, Anderson appended his answer: "I enjoy the most bringing the community together," he said, adding that the business expects to hold a welcome party sometime soon for any and all comers. "It will be good fun."
Yelm resident Luke Clark, 38, had a bit of fun Friday morning when he visited the shop looking for new tires to outfit his Harley-Davidson 2007 Heritage Softail. He was thrilled by Yelm's latest new business.
"We're kind of country out here, and we do a lot of dirt biking," he said. "We need a shop like this."
Clark, who has lived in Yelm for 16 years, decided early on — in what seems to have been a moment of "Zen and the art of motorcycle riding" — that he would ride motorized, two-wheeled contraptions come hell or high water.
"My parents told me at 15 1/2 that if I rode a motorcycle I'd have to leave home," he recalled. "So I got a motorcycle and left home at 15 1/2."
And his enthusiasm has never waned — even in the wet, slippery Pacific Northwest.
"The constant drizzle we have is not a big deal," he said. "We call them dirt bikes for a reason — they're not clean. Mud is awesome."
Sponberg can relate. He began teaching his young daughters to ride motorcross, he said, before they were even in elementary school — and he thinks it has served all of them well.
I'd much rather see my kids riding outside all day than hiding in their rooms with their computer pads and phones," he concluded.
Mud, motocross and Power House Motorsports. It's all in the family.
Interested in finding out more about Yelm's newest business?
You can visit Power House Motorsports at 305 Creek St. SE or view the business on Facebook. Power House is open from 9 a.m. to 6 p.m. Monday through Friday and 10 a.m. to 4 p.m. Saturday. It's closed on Sunday. Call 360-960-8703 for more information.