Sorjen Morgan loves riding his unicycle back and forth, over and around the gym at Prairie Elementary School. The fourth-grader said he started riding because he wanted a challenge. One of his brothers also rode it back when he was in Mrs. Charlston's Circus Arts class, which Sorjen currently attends wheeling around and high-fiving his friends.
"I like it. It's like a bike, but with one wheel and no handlebars," Sorjen said, showing off one of the school's many unicycles. "I like challenges."
About 90 third, fourth and fifth graders are currently preparing for the 13th annual Circus Arts show set for March 27. 
The program and show at Prairie Elementary is a tradition that instills gleeful memories amongst families and staff members. Sorjen, such as his older brothers, has been no exception.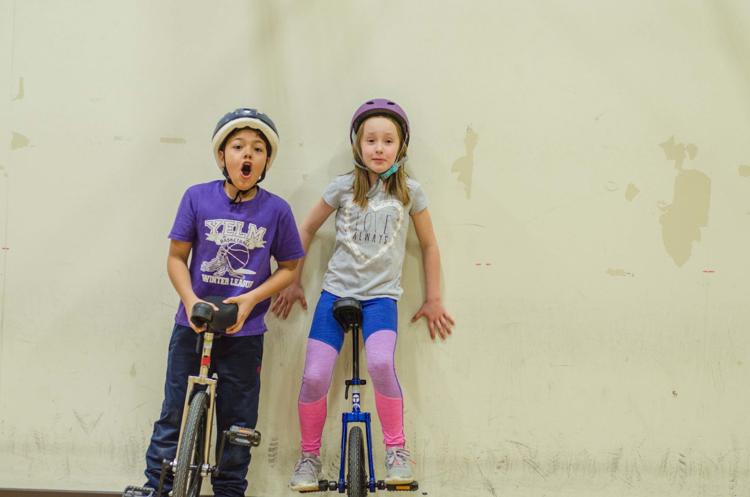 During class and after school, students prepare their very own stilts, unicycle or pogo routines in handpicked teams. 
Physical education specialist LeighAnn Charlston, now in her 19th year of teaching at Prairie Elementary, said the Circus Arts program helps students learn teamwork and special skills that they can take outside the walls of the gymnasium.
"By having the pogo, stilts and unicycles, I feel like everyone can find something they enjoy or (what) makes them special," Charlston said. 
The program has grown significantly from the days when it was a small class. Charlston said McKenna Elementary originally donated unicycles to Prairie when they first started the program back in 2000. Over the years, it has expanded to include pogo sticks and stilts. 
"We scrounged and got some unicycles (back then)… but this supports itself now," Charlston said. "Between PTO, the funds from the show and the t-shirt sales, it pays for itself."
Today, the program is self-sustaining. What the students make from the show goes back into buying equipment for further shows. Charlston said the whole school has been very supportive of the program.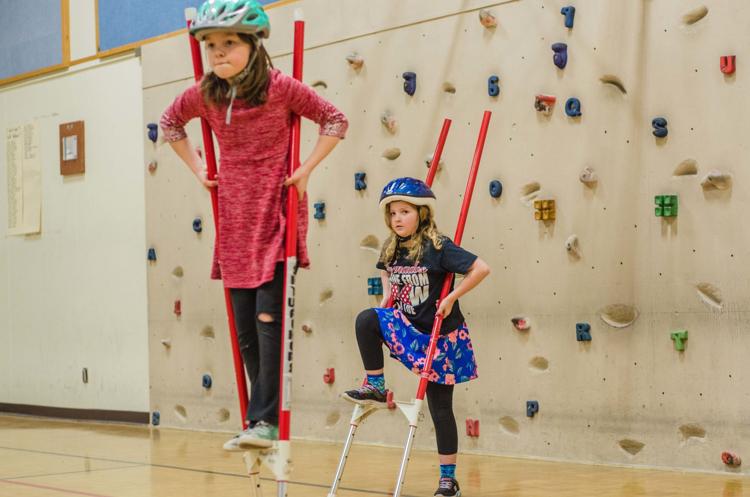 Fourth-grade stilters Peyton Ward and Alira Wymer, possibly with some bias, noted that stilts were the coolest of the three events. Their team of nearly a dozen stilters worked Tuesday morning on a two-minute routine which involved the collapsing bridge, Alira's favorite trick. 
Alira said learning stilts has been difficult. But she's getting better at it. 
"Just getting on and staying on for a while," she said. "And the side stuff."
Most of the students performing for the March 27 show are fourth and fifth graders, but there are a number of standout acrobats in the third grade class, Charlston said. In order to get into the March 27 show, third graders need to show they have the skill to work on a team.
Halfway through one of Mrs. Charlstons' 10 a.m. Circus Arts class, third-grader Alejandro Silva made his way from one side of the gym to the other on a unicycle — without falling. Students dropped everything and began clapping, giving Alejandro props on his accomplishment. 
Charlston then brought Alejandro over to a list on the wall. About two dozen kids' names who had made the hundred-foot journey across the gym were on this list.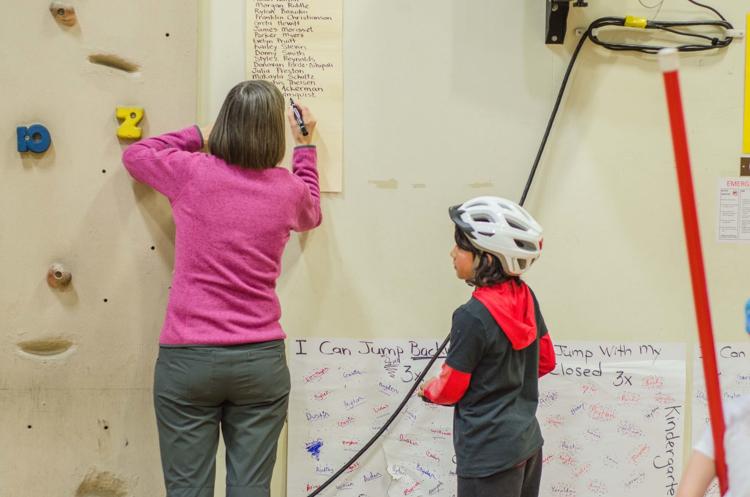 "If you do it a second time, you can make it into the big show," Mrs. Charlston said, etching the third grader's name onto the list. 
It took Alejandro about five minutes of unicycling before he made the trek across the Prairie gym floor again; it was another successful pedal. The crowd of third graders, again, gave Alejandro congrats on the impressive feat. 
"You are in the show, young man. Let me get your paperwork," Charlston said. 
Happier than a first-round NFL draft pick, Alejandro and Charlston spoke about when he would start after school practices.